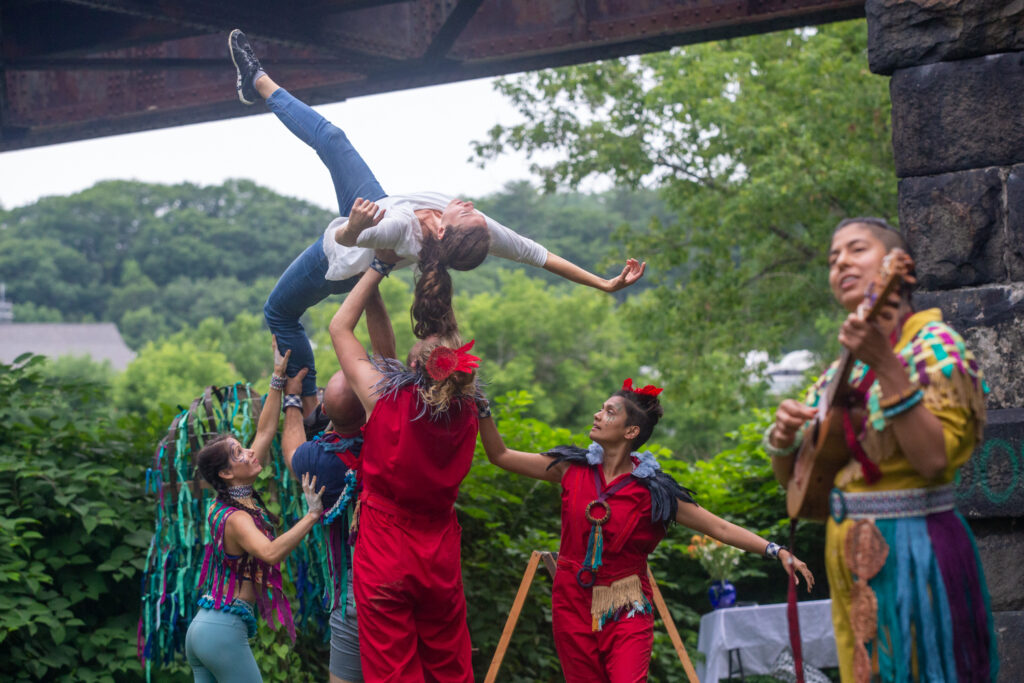 Join Loom Ensemble at EarthDance this summer for an immersive experience of collaborative, interdisciplinary dance-theater creation and performance! During this weeklong residency, participants will train daily in dance, theatermaking, and performance techniques in the morning. In the afternoon, Artistic Directors Neva Cockrell and Raphael Sacks will work with participants to devise ensemble dance-theater performances. Participants will then publicly perform these pieces, as a fully-integrated part of Loom's professional touring show, "Tell Me How You Breathe: Dance-Theater for Collective Liberation" Performances at Earthdance will take place Friday and Saturday nights, August 4th and 5th. The show will then move to Boston for a Sunday evening performance on August 6th, which the Earthdance Ensemble is invited to be a part of!
This is a rare opportunity to train, create new material, rehearse and refine the material, and then perform it… all in one week! Loom has been building the other elements of this show "Tell Me How You Breathe" over the course of the last year, and is now touring with a professional team of 9 artists. This unique model allows us to add in community-based movement ensembles in each location. The show is touring to 10 different cities across VT, MA, and NY. There will be an ensemble in each state… and this is your chance to JOIN THE MASSACHUSETTS MOVEMENT ENSEMBLE!
Who is this for
This residency is open to all levels of movement and performance experience, and all bodies. We will be devising the pieces, so each person will be able to tailor it to their body and ability level. While we may have some moments of scored improvisation, we will mostly be creating and setting material, so it is useful to be able to remember set movement sequences.
This is a body positive, queer, anti-racist space. The work is explicitly political, leaning into raw conversations, but centering wellbeing and respect for the artist throughout.
About the show "Tell Me How You Breathe"
This summer, Loom Ensemble is bringing together a racially diverse team of professional dancers, musicians and theatermakers, to invite you into an outdoors experience of Dance Theater for Collective Liberation. Loom's newest piece "Tell Me How You Breathe," brings us to a world where climate crisis has progressed slightly more than our present day, to play out the interrelationship of institutional power structures and ancestral healing practices. Playful humor, live music, and beautiful storytelling help us lean in to meet these pressing issues.
The story centers on the lungs, as the site of interconnectedness and the organ of grief. "Who gets to breathe freely, fully, with ease," is a necessary question for our time, right at the intersection of eco-activism, social justice, and public health. With the nourishment of participatory ceremony and song, Loom grounds this political conversation in the physical body, to incite the radical act of collectively imagining a more just and beautiful world.
Testimonials
"Neva and Raffles facilitated a space that felt inclusive, liberating and autonomous. I felt that I belonged and I was able to arrive as myself. Each offering invited freedom of movement, self expression and sharing." -Erica, Residency Participant, New York
"Powerful and unique… Don't miss it!" -Gulf News, Performance Review, Dubai UAE
"Such a beautiful performance tonight! Provocative, sensual, heart-wrenching, and dreamlike, but ultimately hopeful, with so many textured layers. I loved the fact that the performance was both rough and graceful." -Gretchen, Audience Member, Vermont
Sample Schedule July 31 – August 6 (actual schedule TBA)
Monday: Arrivals and Introductions. Dinner at 6-7pm
Tuesday – Wednesday: Dance-Theater Trainings and Rehearsal
Thursday: Dance-Theater Training and Dress/Tech Rehearsal
Friday – Saturday: Rehearsals and Performances
Sunday: Optional Travel to Boston and Performance in Boston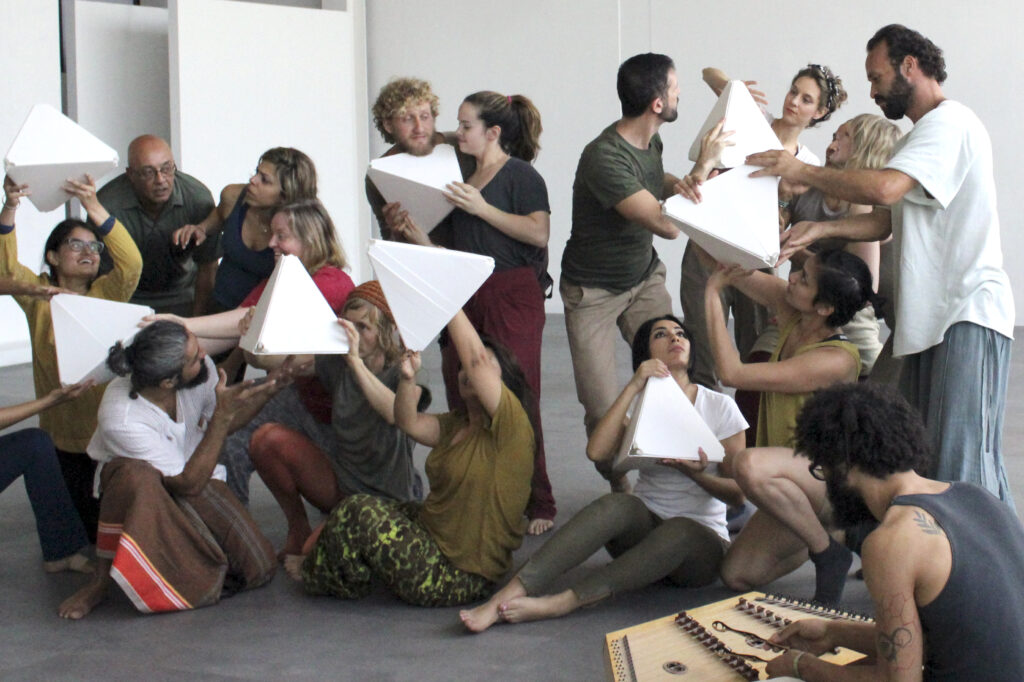 Housing Options
Gratitude Lodge Tickets
Includes a bed in the Gratitude Lodge, workshop offerings, and healthy delicious food.
The Gratitude Lodge (a.k.a. the Earthdance dorm) is the main lodging facility, connected to the Farmhouse by a short wooded trail. The lodge includes large and small rooms featuring dormitory-style bunks and beds (twin & queen size) and is included in the base event cost. Beds are available on a first come basis.
Camping Tickets
Includes a spot to camp in Earthdance's wooded areas or grass field, workshop offerings, and healthy delicious food.
PRICING
Our Fees Explained
Earthdance offers a sliding scale payment for participation in this event, please take a moment to reflect as you decide on where you best fit.
Your level of contribution is self selected and does not need to be advocated for. However, we invite you to remember this contribution is currency and we ask that you stretch where you are able so that those who cannot stretch as far of a financial distance may also have potential access to community events. As you choose your rate please consider the following factors:
Your access to income and wealth, as connected to family and partnership, both currently and anticipated in the future.
The historical, systemic impacts of wealth accrual based on culture, race and other intersection marginalizations for you and your family.
The regional ease of your attendance, while some community members can drive to Earthdance, others will need to consider tuition based on their ability to travel longer distances.
Earthdance is a community and rental funded organization which recently, historically and uniquely through the Covid-19 pandemic has struggled to have viable income.
Gratitude Lodge
$1250 – Financially Wealthy
$950 – Financially Abundant
$750 – Financially Stable
$625 – Financially Coping
$575 – Financially Strained
Camping
$1225 – Financially Wealthy
$925 – Financially Abundant
$725 – Financially Stable
$600 – Financially Coping
$550 – Financially Strained
Equity & Access Tickets
Although we're not able to offer any full scholarships this year, we're excited to offer up to 8 Equity & Access Discounts to individuals who feel part of an underrepresented and/or marginalized group and have a relationship with CI, performance or dance. We know that for those who come from marginalized populations showing up to spaces filled with primarily privileged groups can be a challenge, and can feel vulnerable.
"Apply" and see more details here. Application deadline is July 16th.
For those who do not identify as marginalized and are in a represented group, we invite you to stretch in your payment to help support those who cannot stretch and create a more diverse event experience for all.
Note: While Earthdance is making efforts to better support Equity & Access at all its events, this training offers particularly strong support for diversity, equity, and inclusion through:
Reduced pricing offered to people self-identifying as being underrepresented and/or marginalized.
Classes and discussions that aim to bring up the level of awareness and inclusion at the event as a whole.
Affinity spaces (jams, discussions, etc.) for particular groups of people to connect, share space together, and rest from the pressures of being in a minority status at the event.
BIPOC Spots
This is retreat is a body-positive, queer, anti-racist space.
By offering a sliding-scale program fee, work exchange opportunities, "Equity and Access" discounts, and two *FREE* BIPOC spots, we hope to make this retreat accessible to all.
To register for a FREE BIPOC spot please email programming@earthdance.net.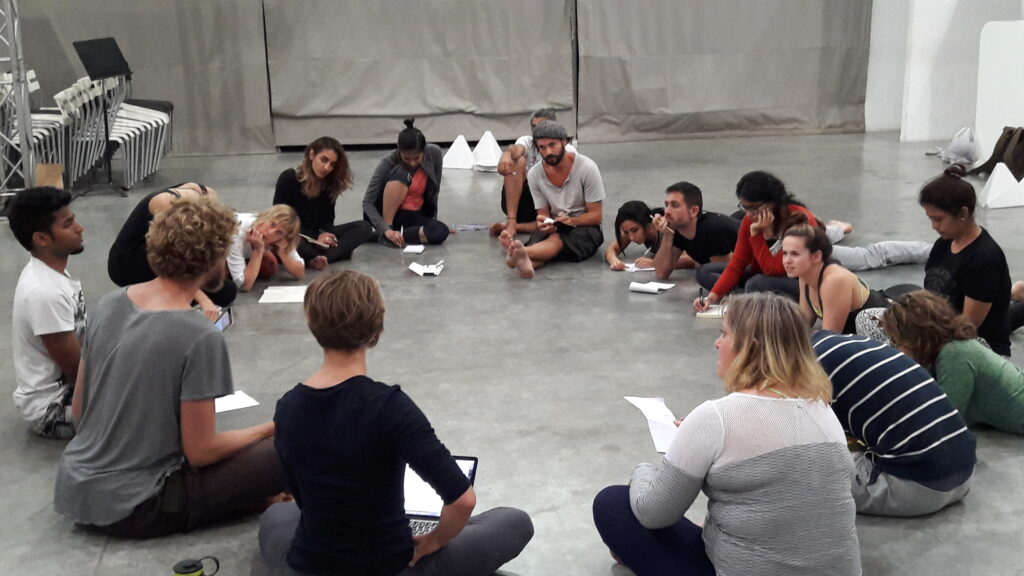 Cancellation Policy
Refund available up to 14 days (July 16th) before the event less a $75 processing fee.
No refunds available less than 14 days from the start of the event.
Partial refunds might be given if a cancellation takes place under extenuating circumstances (e.g. a death of a 1st or 2nd degree family member, serious non-preventable illness or accident requiring hospitalization). Refunds in such cases remain at the discretion of the local organizers and will be decided on a case to case basis according to the timing of the cancellation and other factors.
COVID Precautions
No specific requirements on vaccination status are needed to attend this event. However, ALL registrants are required to take an antigen test on the day of before arriving on Monday, July 31st at Earthdance. If you need a test, Earthdance will have them available to purchase for $10 each.
Please take adequate measures to limit your exposure in the days before arriving. If you are feeling sick, or have a known close exposure to someone with COVID in the past 5 days, please sit this one out to keep the community well.
Participant Community Support
Earthdance runs as a​ community, thus part of the participation is that all individuals contribute to 1-2 work shifts (typically meal cleans) throughout the event and participate in a final house clean on the last day of the event. These are great ways to connect more with your fellow participants and Earthdance staff, and to feel more at home in the Earthdance buildings & grounds. Your contributions to this collective caring of this space are invaluable!
Earthdance's buildings are ADA accessible. More info here.
HOST BIO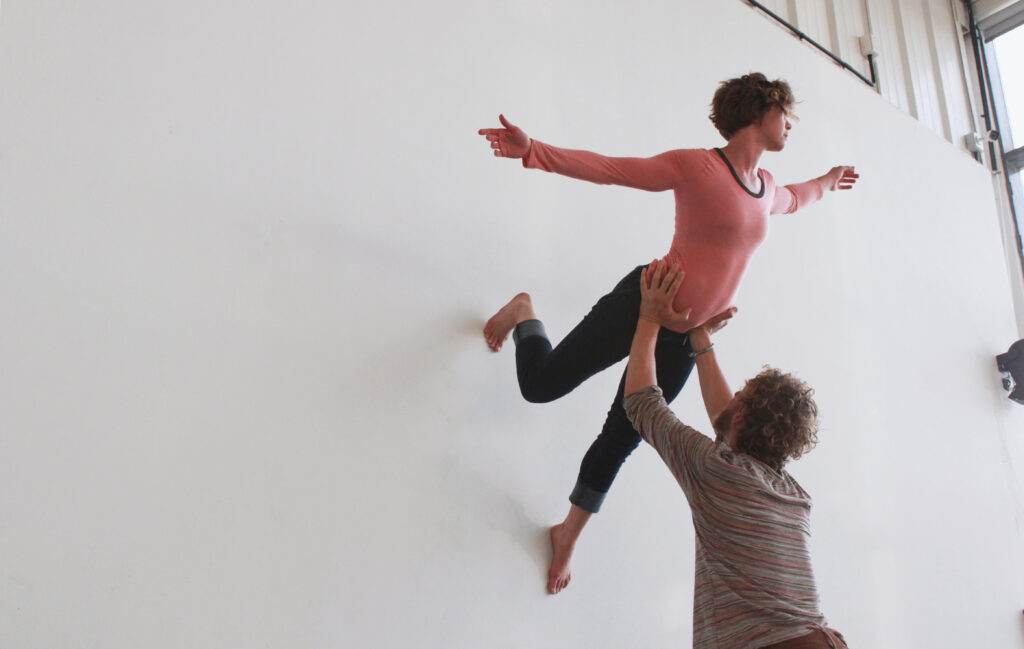 About Loom Ensemble
Loom has been devising interdisciplinary theater for culture shift for 13 years from NYC blackboxes to stone monasteries in Italy, repurposed industrial warehouses in Dubai and to the fields and forests of Vermont.We use our performances to open difficult conversations, and then facilitate community discussion to unpack the emotional vulnerability and cultural taboos of each show. In that shared space, the social value of art made from a place of deep integrity becomes clear: our actions matter, new ways of living are possible, together we can build a more loving world.
As a direct response to broken patriarchy, lonely individualism, and shame-inducing capitalism, our performances call audiences home to themselves and their communities. Our work is to reconnect with the earth, with emotional integrity, and with each other.
Loom Ensemble devises "dance-theater" in the most literal sense, using character, story, and dialogue to ground abstract dance in emotional specificity; and using full-bodied contemporary choreography to deepen the resonance of our narrative storytelling. Mix in group songs to connect the body of the performer with the hearts of the audience, and you've got Loom Ensemble's interdisciplinary approach to live theater.
Read more about Loom Ensemble and this work.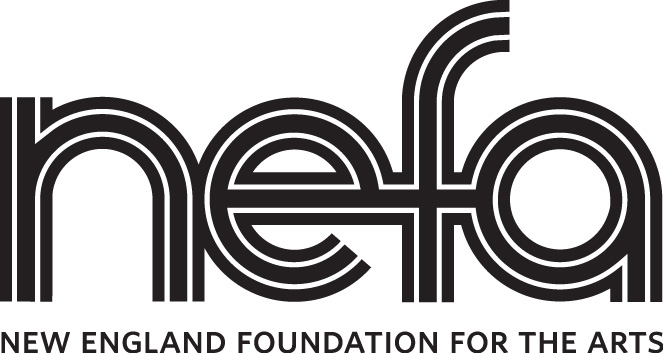 New England States Touring (NEST)
Funded in part by the New England States Touring program of the New England Foundation for the Arts, made possible with funding from the National Endowment for the Arts Regional Touring Program and the six New England state arts agencies.