Earthdance's facilities and grounds include 2 main buildings, sauna, quarry, nature trails and fire pits
The Farmhouse
Earthdance's main facility is an 1812 farmhouse (formerly part of the Anson Betts Manganese Mine) that has been thoroughly renovated to provide a beautiful, spacious home appropriate for large groups. Handcrafted stained glass windows, tiles, wall art, and other decorative features make the Farmhouse a one-of-a-kind facility that reflects decades of community care and creativity. The Farmhouse . The Farmhouse contains our 3 studio spaces, kitchen, dining area, library, sun porch, as well as five bathrooms (3 showers) and other common spaces.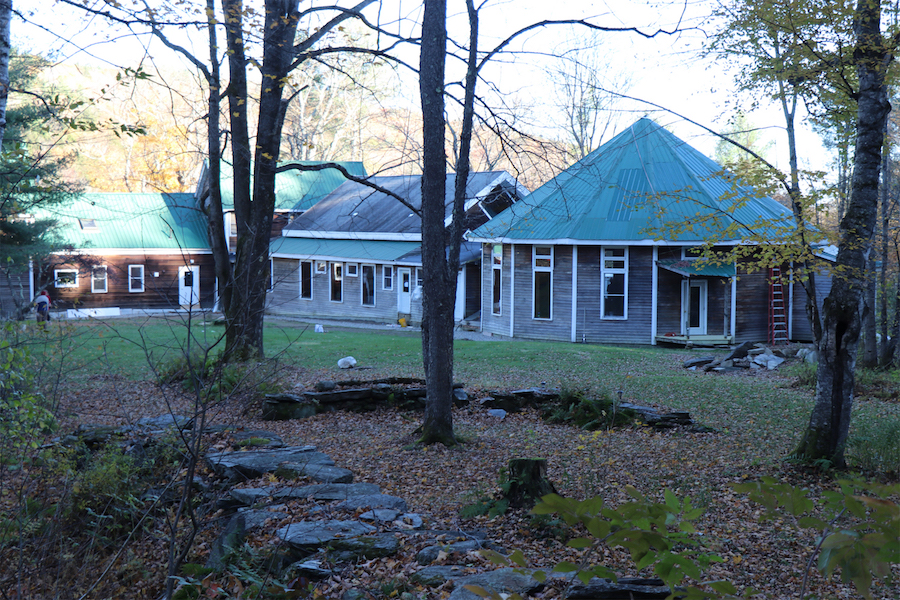 The Gratitude Lodge
The Gratitude Lodge (a.k.a. the Earthdance dorm) is Earthdance's main lodging facility, connected to the Farmhouse by a short wooded trail. The Gratitude Lodge offers guest housing for up to 60 guests with an assortment of large and small rooms featuring dormitory-style bunks and beds (twin and queen size). The Gratitude Lodge also has a common area and shared bathrooms.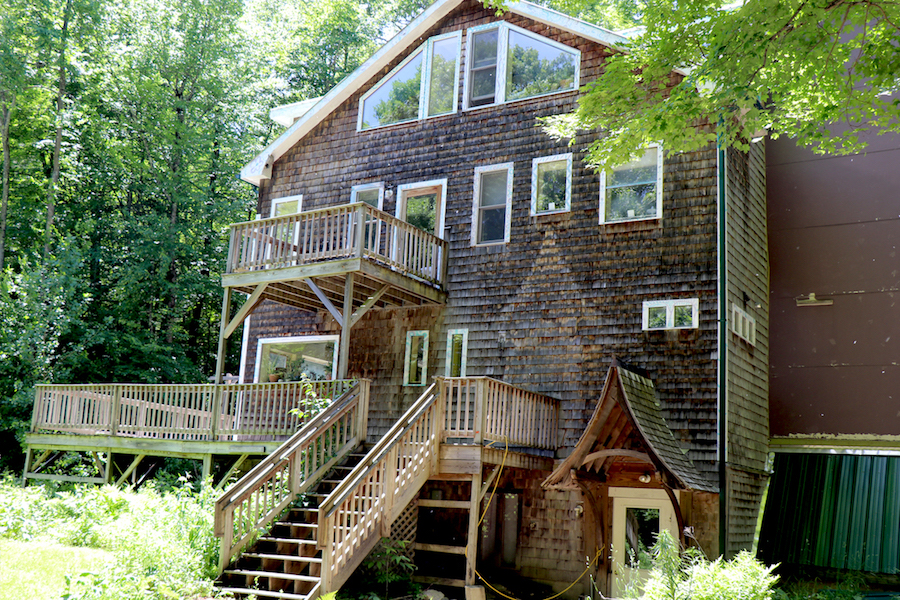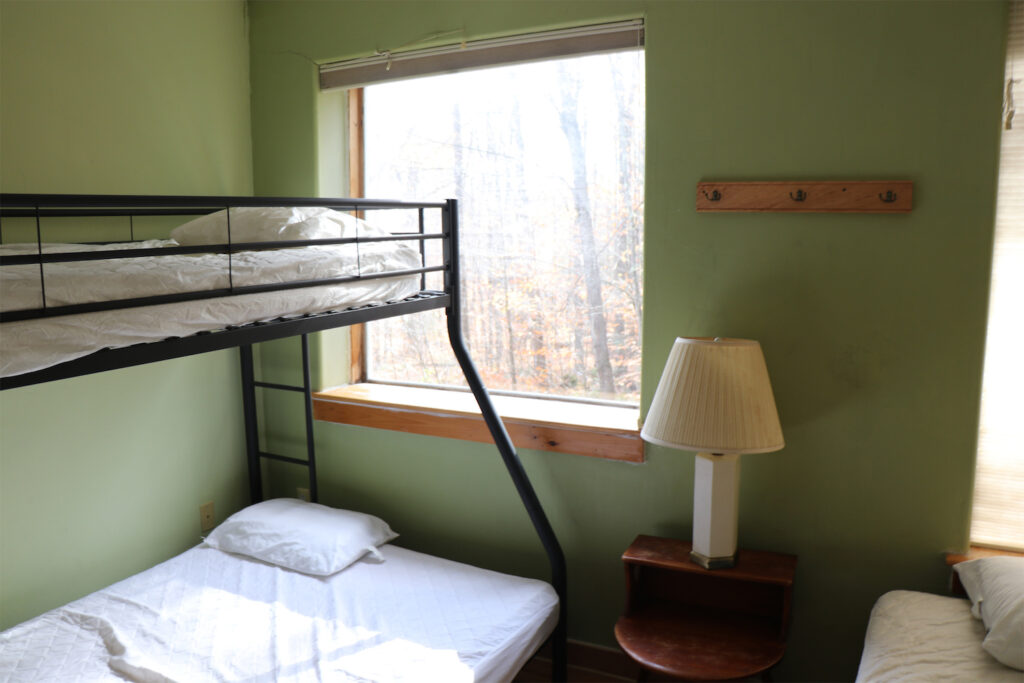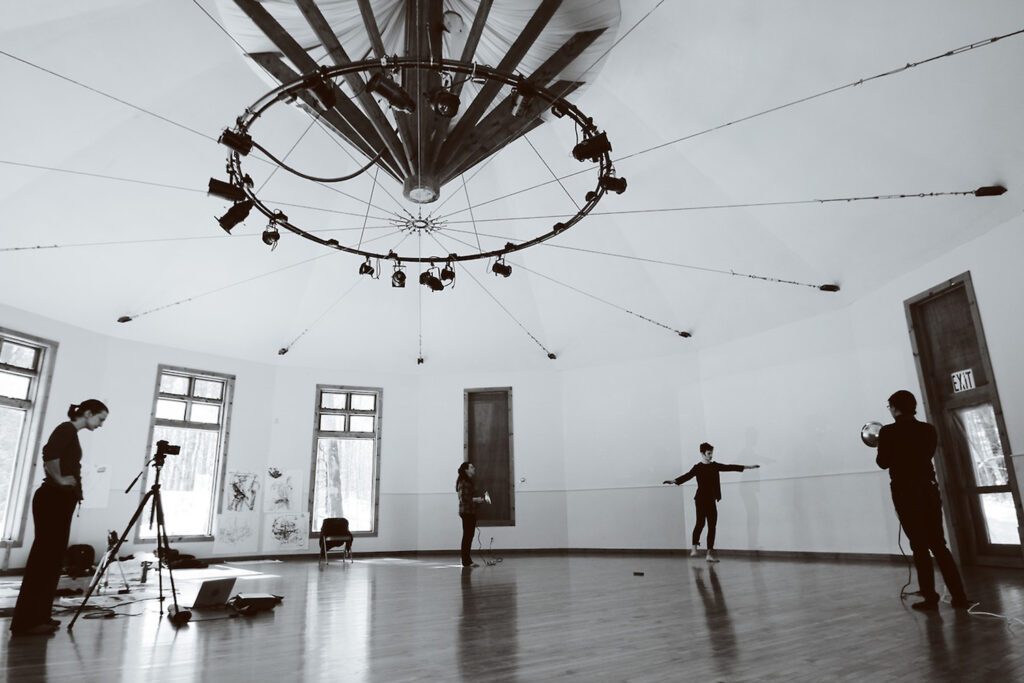 The Umbrella Studio
Earthdance's largest studio, the Umbrella Studio, is 44′ in diameter (1,500 sq ft) and 14-sided, accommodating 120 people total. Built in 1999 by Earthdance's extended community, the Umbrella Studio is an architectural marvel, featuring an "umbrella" ceiling with a circle of performance lights, wood-sprung maple floors, radiant heat, a door to the outside, and large windows on all sides looking out towards the apple orchard, garden, and forest.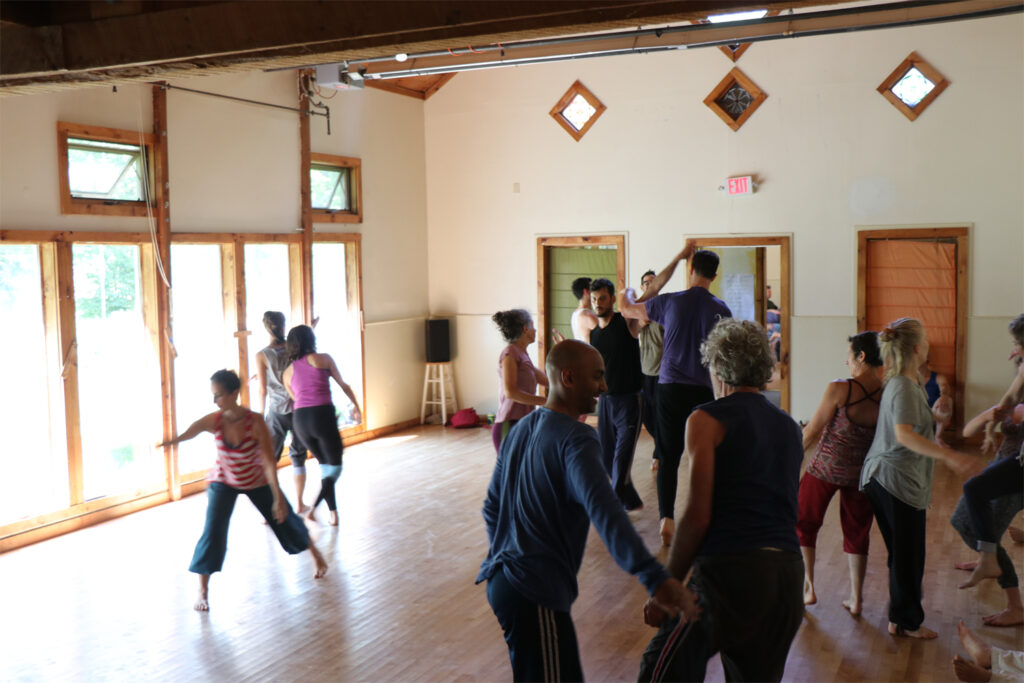 The Rectangle Barn
The cathedral-roofed Rectangle Barn is Earthdance's original studio, connected directly to the main Farmhouse from the dining room. 24′ x 48′ and accommodating 60 people total, it is equipped with piano, sound system, and limited theatrical lighting. The Rectangle Barn also features wood-sprung maple floors and windows on one side.
Studio 3
Studio 3 is a third smaller studio located on the second floor of the Farmhouse. Accommodating 15 people, Studio 3 is ideal for small group activities or breakout sessions.
Kitchen and Dining
The Kitchen is at the heart of the Earthdance home, bridging the hangout spaces of the Farmhouse (living room and library) with the studios. Earthdance's Kitchen is equipped with an industrial range and walk-in cooler. The pantry supports group as well as personal food storage. Learn more about our kitchen and meals.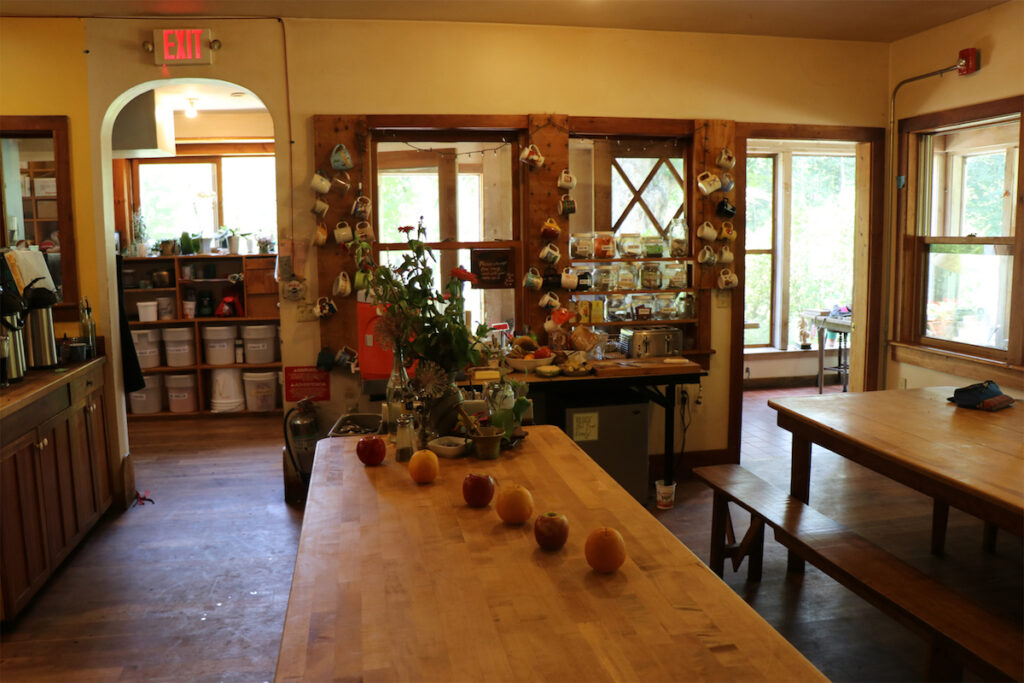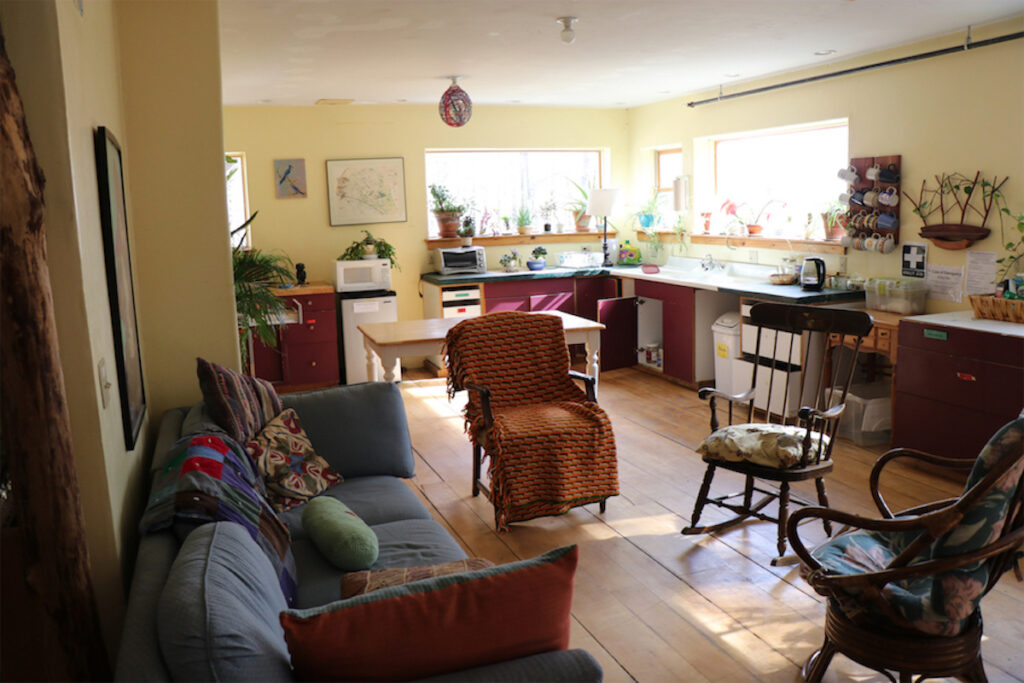 Earthdance's main dining area is in the center of the Farmhouse directly connected to the Kitchen, with a handcrafted banquet-style table and seating for 12 people. Our Sun Porch connects of the dining area to increase seating capacity.
Sun Porch
The indoor Sun Porch dining area is directly off of the main Dining Room, with floor-to-ceiling windows looking out onto Earthdance's garden and seating for 48 people.
The Sauna
The self-service wood-fired cedar sauna nestled in the woods is a treasured feature of Earthdance and was the second structure built by the Earthdance founders. The sauna sits next to Earthdance's quarry—an old mining quarry now filled with cool water for jumping into before and/or after sauning. The sauna can accommodate up to 12 people.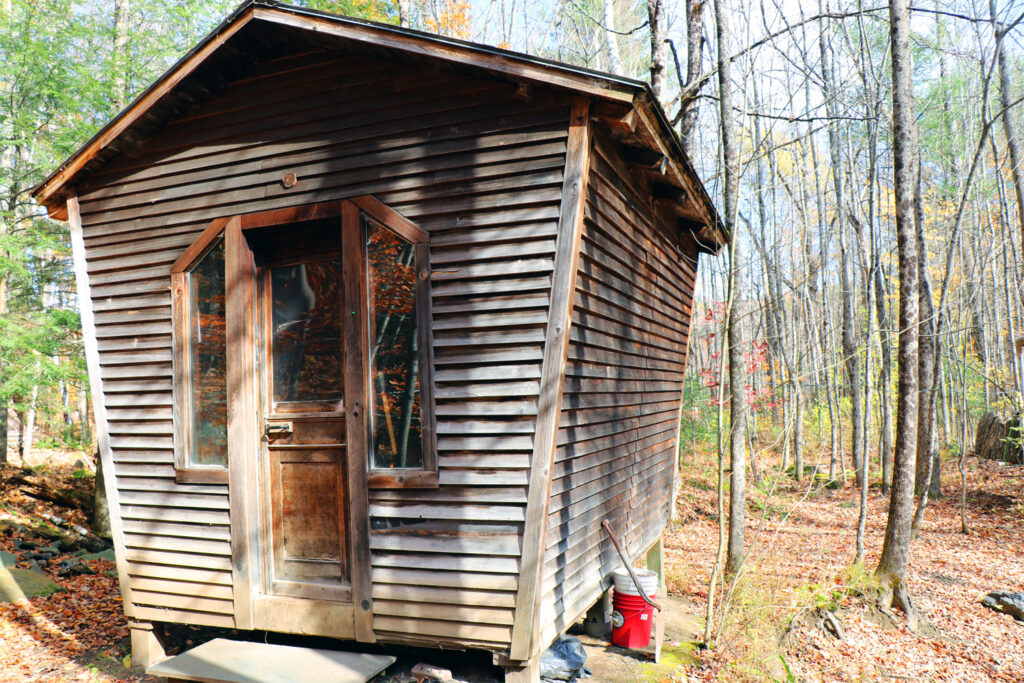 The Land
Earthdance sits on 125 acres of wooded land that expands into Mass Audubon's West Mountain Wildlife Sanctuary (part of one of the largest aggregations of conserved land in Massachusetts) and Deer Hill State Reservation, whose summit is a 1hr hike from Earthdance. Winding trails criss-cross a trickling stream (tributary of the Westfield River). In the Spring, Summer, and Fall, the woods teem with wildlife, providing a vivid and serene landscape for camping and exploring. In the Winter, pristine snowfalls provide an idyllic setting for snow-shoeing, cross-country skiing, and sledding. See our campus map and trail map.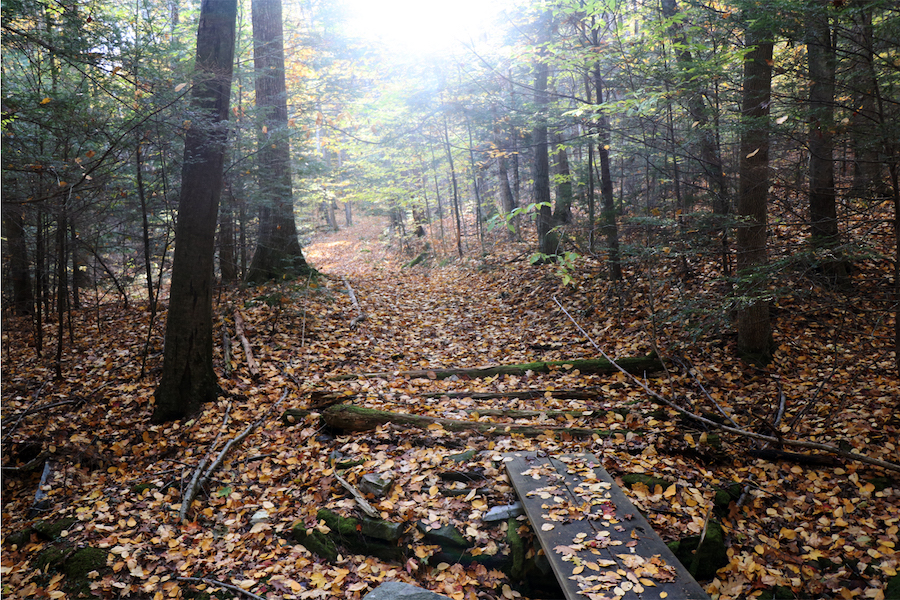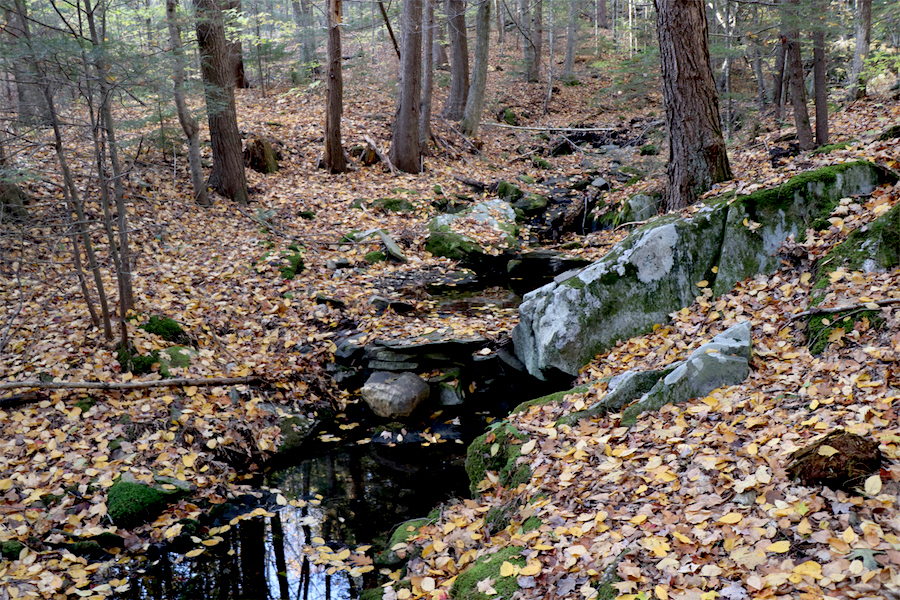 The Apple Orchard
Earthdance's Apple Orchard covers the area between the Farmhouse and Nine Mountain Retreats with 75-yr-old apple trees that overflow with apples in the Fall and 75-yr-old maples that get tapped for syrup in the Spring. The Apple Orchard provides a peaceful grassy expanse for playing, resting, gathering, and camping.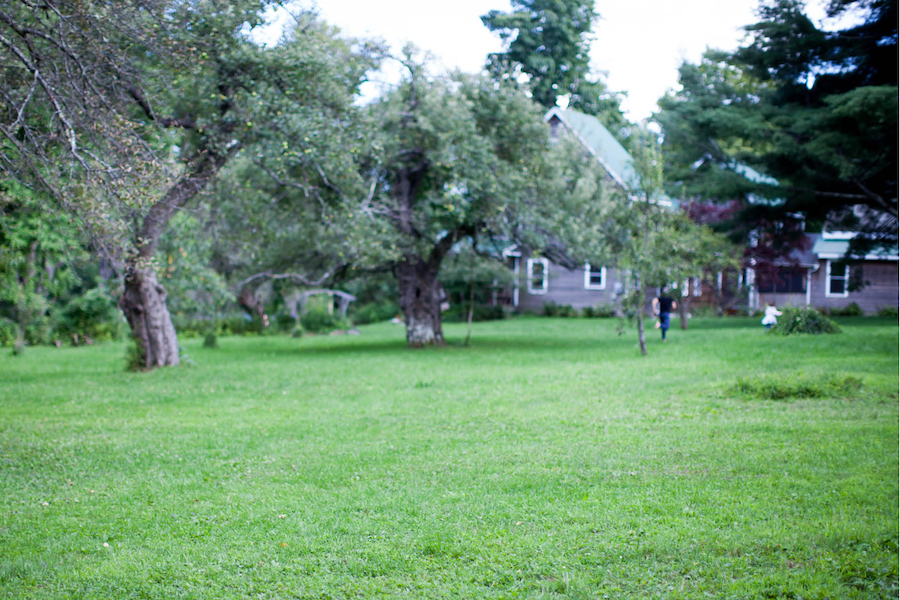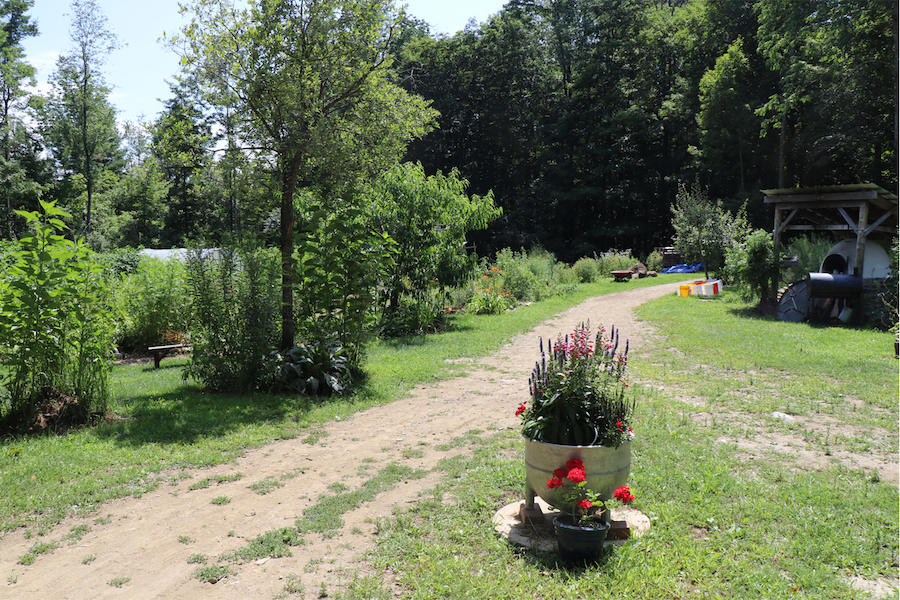 Campfires
Earthdance has three main campfire circles to accomodate large groups: one large circle in the Apple Orchard, one large circle behind the Umbrella Studio, and one smaller circle 15min into the woods. All of our firewood is sourced from the land and our staff can prepare fires for your group upon request.
Camping
Our Apple Orchard and 125 acres of forest provide ample space for personal tent camping. Guests camping have access to the shared bathrooms in the main Farmhouse. For most people, camping is only viable during the warmer months (late spring to early fall). Below freezing weather is a possibility from October to May and snow on the ground is likely from late December through March and possible earlier in the fall and later in the spring.
Nine Mountain Retreats (year-round, dependent on availability)
Nine Mountain is a beautiful facility adjacent to Earthdance with overflow accommodations for an additional 25 guests. Nine Mountain offers 2 floors of guest housing with an assortment of dormitory-style and private rooms, as well as a living room, dining room, hot tub, and shared bathrooms.