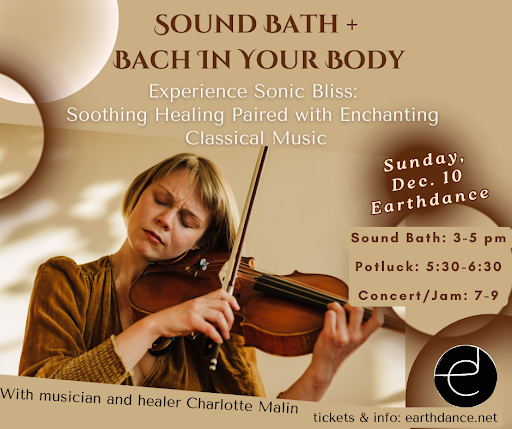 Experience the gorgeous resonance of the Umbrella Barn in a profound way with musician and sound healer Charlotte Malin. First, take a luxurious restorative journey to the sounds of singing bowls, violin, viola, etheric vocals, harmonium, drums, tuning forks and more. Lie down, sit, or cuddle with a friend and receive vibrations to restore the heart and spirit. Live sound medicine profoundly assists the practitioner in reaching states of elevated consciousness and emotional release. Additional benefits include regulating the nervous system, creating harmony between body systems, aligning and clearing the energetic field, activating your creative channels, and so much more.
Bring your own blankets/pillows/mats to be as comfy as possible, an eye mask, a water bottle, and your journal.
After this delicious restorative attunement, Charlotte will offer Bach In Your Body, an embodied classical music experience. After a short guided workshop on listening to classical music with the body, Charlotte will perform the music of Bach on violin and viola. During the concert, the space is open for movement, dance, meditation, journaling, and art-making (bring your own materials). Consider wearing comfortable clothes and bringing your own seat cushion and water bottle. 
SCHEDULE
Sound Bath: 3 – 5 pm
Potluck: 5:30 – 6:30 pm
Bach In Your Body: 7 – 9 pm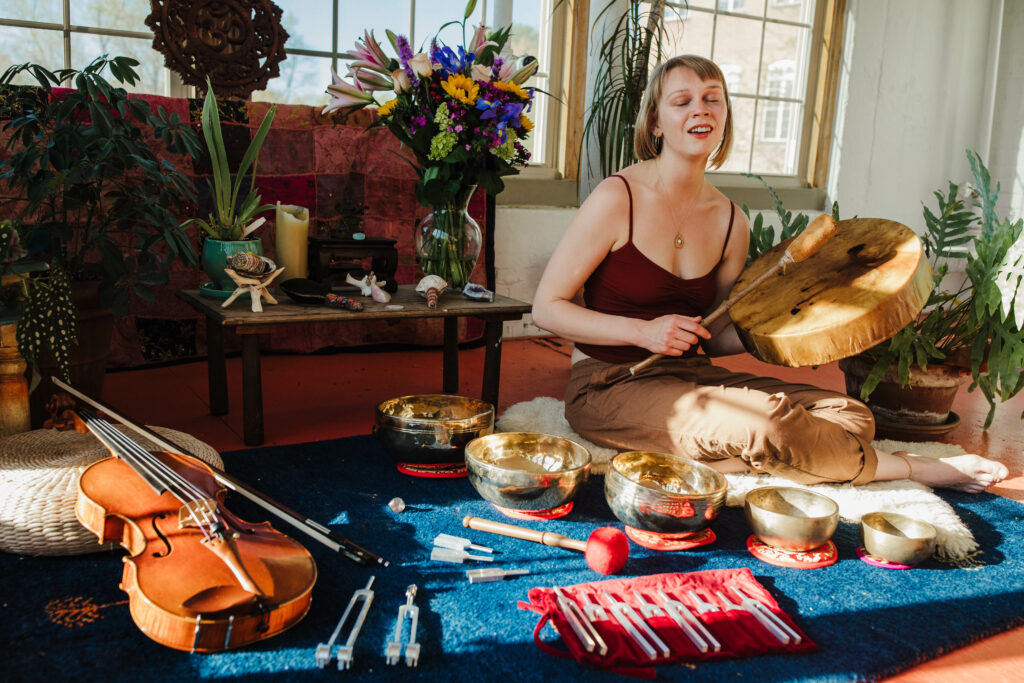 PRICING
SOUND BATH & BACH IN YOUR BODY
Financially Wealthy – $250
Financially Abundant – $150
Financially Stable – $80
Financially Coping – $55
Financially Strained – $35
SOUND BATH ONLY
Financially Wealthy – $220
Financially Abundant – $130
Financially Stable – $65
Financially Coping – $40
Financially Strained – $20
BACH IN YOUR BODY ONLY
Financially Wealthy – $220
Financially Abundant – $130
Financially Stable – $65
Financially Coping – $40
Financially Strained – $20
SAUNA
$10 with towel rental
STAY OVERNIGHT
If you wish to extend your visit and stay overnight in our Gratitude Lodge dorm bed is $40. (Rental of sheets and towel is $15) Or, camping which is $30. * Includes access to the sauna and kitchen use but does not provide food.
***If you find that you are struggling financially or there are other circumstances that are making it difficult to join this special workshop, please email programming@earthdance.net with your situation so that we can create a way to have you join us.***
Cancellation Policy
Refund available up to 10 days before the event less a $15 processing fee.
No refunds available less than 10 days from the start of the event.
Partial refunds might be given if a cancellation takes place under extenuating circumstances (e.g. a death of a 1st or 2nd degree family member, serious non-preventable illness or accident requiring hospitalization). Refunds in such cases remain at the discretion of the local organizers and will be decided on a case to case basis according to the timing of the cancellation and other factors.
COVID Precautions
No specific requirements on vaccination status are needed to attend this event. Please take adequate measures to limit your exposure in the days before. If you are feeling sick, or have a known close exposure to someone with COVID in the past 5 days, please sit this one out to keep the community well.
Earthdance's buildings are ADA accessible. More info here.
HOST BIO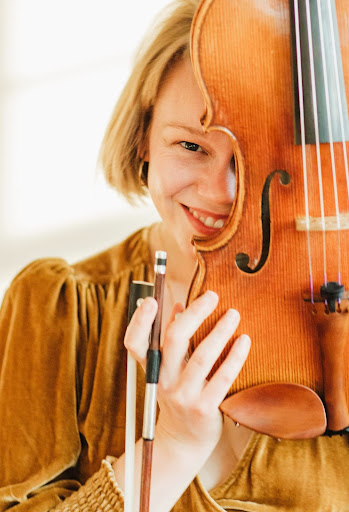 Charlotte Malin is a charismatic and versatile musician with a unique range spanning classical violin and viola, intimate and ethereal songwriting, and improvised live-lopping. Her many creative offerings sit at the intersections of classical music, holistic wellness, creative empowerment, ritual, and community-building. As an artist and facilitator, she hosts "Now/Hear" conscious & connective classical concerts, Sound Baths, multi-disciplinary Salons, workshops, creativity retreats, community open mics, and more. She performs internationally, including in a string quartet with violinist Midori, and has served as Principal Viola of the Hudson Valley Philharmonic and a member of the Hartford and Albany Symphony orchestras. She holds degrees in violin and viola from New England Conservatory and Northwestern, where her principal teachers were Kim Kashkashian and Almita Vamos. Malin currently serves as the viola instructor at Amherst College and curates a community hub for embodiment, arts, and spirituality in Florence MA called The Hidden Temple.