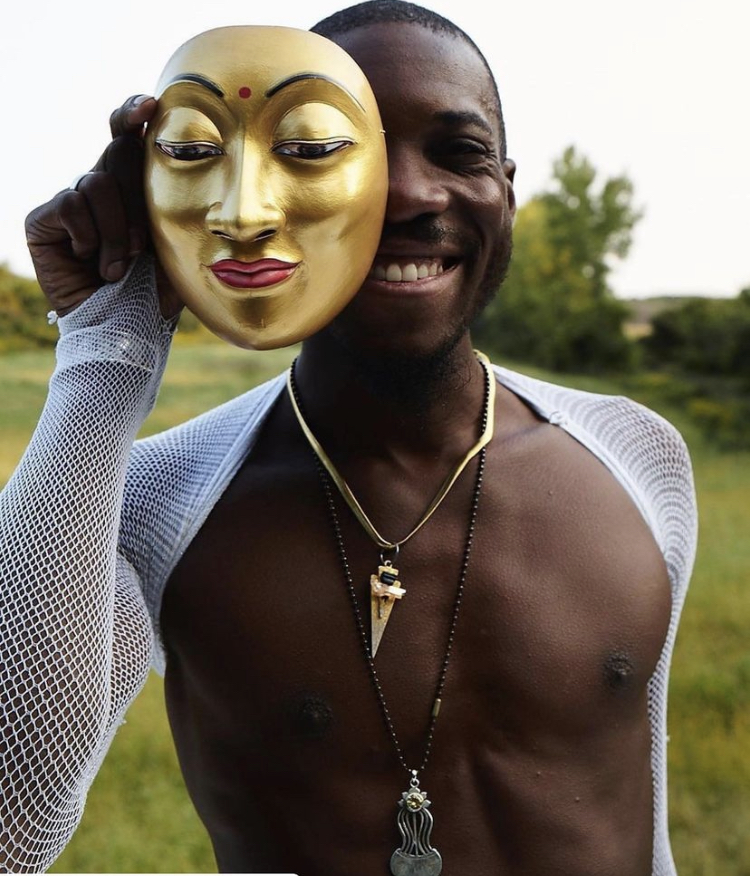 When was the last time you underwent a meaningful transformation?
When was the moment you embodied the presence of a powerful Queen, or emerged as a regal King, only to then transform into the playful dance of a Clown?
Transformation is the catalyst for healing, inspiration, and enlightenment, finding its perfect medium in the captivating realm of masks. Masks have always held an intricate connection to the depths of the human psyche, a tangible bridge to archetypal images and centers that are within us all.
Journeying into the realm of archetypes, a profound facet of human consciousness, opens doors to unexplored dimensions, experiences, and wisdom. Whether you're stepping onto this path for the first time or you're a seasoned traveler in the realm of archetypes, our workshop promises an immersive experience tailored to your unique quest for knowledge and creative self-discovery.
Prepare to immerse yourself in the intricate tapestry of archetypes using the esteemed Brahe-Davis method of MASK. Embark on a journey that transcends various schools of thought, allowing you to embody these archetypal forces through this medium. As you delve deeper, you'll unravel the threads that connect these archetypes to the fabric of our culture, media, and collective consciousness.
Disney's "The Lion King" is intentionally interwoven with archetypal imagery and messages that may miss the eye before it's pointed out. So- YES We'll discuss the Lion King as a template for understanding archetypes and how these universal patterns captivate and educate us through various media lenses.
With over 15 years of immersive experience, teaching over 10,000 students, Akil Apollo Davis' profound expertise will be your guide, offering you a meticulously curated weekend: "Archetypes & the Metamorphosis-Masquerade." His guidance will lead you to unearth your innate ability to metamorphose through archetypes. His unique Balinese crafted masks will serve as the key to unlocking the archetypal center within you, allowing you to transform from the inside out. Discover the gifts they bestow upon you and witness how a deeper understanding can magnify the richness of your everyday life.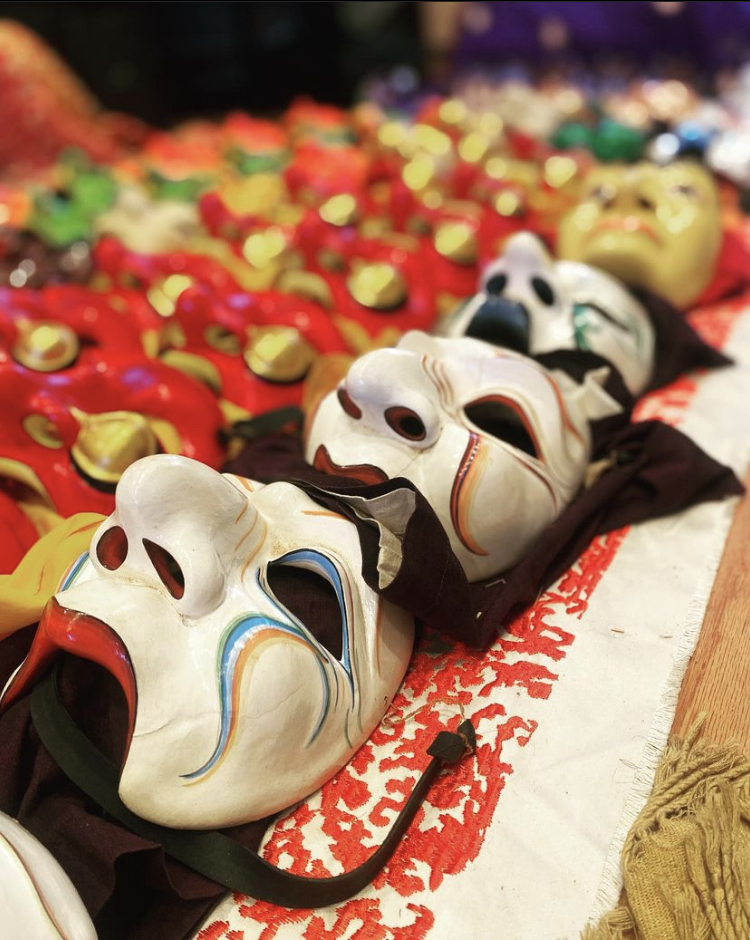 SHARE OUR FACEBOOK EVENT!
Are you ready to take this enthralling leap? Here's a glimpse of what awaits you during this weekend:
🌟 Engage in evening embodiment sessions with masks and music, planting the seeds for your archetypal exploration.
🌟 Immerse yourself in micro gestures and compression techniques to enhance your transformation.
🌟 Participate in archetype mask lectures and embodiment exercises to uncover the essence of these powerful archetypes.
🌟 Join the Costume Bazaar to select the attire that will become the vessel of your metamorphosis.
🌟 Experience engaging play, improv, and story time sessions that weave the magic of archetypes into your narrative.
🌟 Culminate your journey with the grandeur of the Metamorphosis-Masquerade, where your transformed self will be celebrated.
Prepare to reflect, integrate, and ready yourself for the journey home on the final day.
***Bring your personal costumes, accessories, and pieces to fully embody your transformation for the night of the Masquerade!
***Bring extra pieces if you want to support the activation and transformation of your fellow participants!
Spaces for this extraordinary experience are limited! Only 22 spots available. Secure your ticket for a weekend that promises to reshape your perception of storytelling, culture, and the art of self-expression.
Our Fees Explained
Earthdance offers a sliding scale payment for participation in this event, please take a moment to reflect as you decide on where you best fit.
Your level of contribution is self selected and does not need to be advocated for. However, we invite you to remember this contribution is currency and we ask that you stretch where you are able so that those who cannot stretch as far of a financial distance may also have potential access to community events. As you choose your rate please consider the following factors:
Your access to income and wealth, as connected to family and partnership, both currently and anticipated in the future.
The historical, systemic impacts of wealth accrual based on culture, race and other intersection marginalizations for you and your family.
The regional ease of your attendance, while some community members can drive to Earthdance, others will need to consider tuition based on their ability to travel longer distances.
Earthdance is a community and rental funded organization which recently, historically and uniquely through the Covid-19 pandemic has struggled to have viable income.
PRICING
GRATITUDE LODGE
$1000 – Financially Wealthy
$850 – Financially Abundant
$700 – Financially Stable
$600 – Financially Coping
$550 – Financially Strained
CAMPING
$975 – Financially Wealthy
$750 – Financially Abundant
$675 – Financially Stable
$575 – Financially Coping
$525 – Financially Strained
COMMUTER
$950 – Financially Wealthy
$750 – Financially Abundant
$650 – Financially Stable
$550 – Financially Coping
$500 – Financially Strained
Equity & Access Tickets
Although we're not able to offer any full scholarships this year, we're excited to offer up to 3 Discounted Tickets to individuals who feel part of an underrepresented and/or marginalized groups. We know that for those who come from marginalized populations showing up to spaces filled with primarily privileged groups can be a challenge, and can feel vulnerable.
"Apply" and see more details here. Application deadline is November 2nd.
For those who do not identify as marginalized and are in a represented group, we invite you to stretch in your payment to help support those who cannot stretch and create a more diverse jam experience for all.
Housing Options
Gratitude Lodge at Earthdance Tickets
Includes a bed in the Gratitude Lodge, workshops, and food during the event.
The Gratitude Lodge (a.k.a. the Earthdance dorm) is the main lodging facility, connected to the Farmhouse by a short wooded trail. The lodge includes large and small rooms featuring dormitory-style bunks and beds (twin & queen size) and is included in the base event cost. Beds are available on a first come basis.
Camping Tickets
Includes a spot to camp at Earthdance, workshops, and food during the event.
Commuter Tickets
You will have access to all workshops including food for the event.
Commuter Health Care: We ask that you please use caution when commuting and limit, if possible, to just commuting to and from your home and Earthdance, staying away from large crowds to maintain the health and well being of the other participants.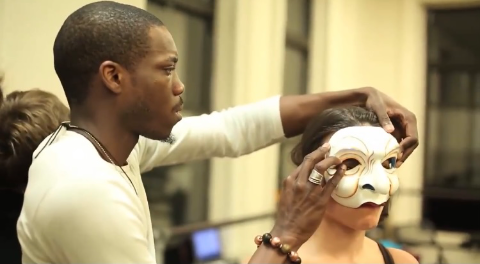 ABOUT THE MASKS
These wooden masks are hand-carved in Bali by a Priest/Brahman, require 40-70 coats of paint and a traditional sacred cleansing ceremony for their completion!
The Masks differ from the traditional Balinese canon. The only similarity is that the Brahe-Davis Masks are made with the same process and carving method of the traditional Balinese Masks, but these are NOT "Balinese Masks"
The Image the Masks are carved from are channeled from Akil or Per Brahe's (the founder of the work) to intention and imagination. The Masks are then placed on participants and they are allowed to explore transformation.
It is also important to note that these masks differ, in the extreme, from the traditional Commedia dell'arte Masks which dominate Europe and Western/American Culture. While Commedia masks aim to put the body in the position or gesture of the character- frequently using a mirror- The practitioners of the Brahe-Davis Mask technique are generally NOT allowed to SEE or KNOW what Mask they have. These masks don't work your mind, these masks work your BODY through the power of image and transformation and your body's natural ability to be sensitive to the image in the mask!
HOW THE MASKS WORK
90% of the time participants aren't even allowed to see or know what the mask is. This keeps them from Pre-acting in a wrong direction. And even though people don't see the mask or know what it is- they will still DO what the Mask is. This is the body's natural sensitivity.
In a nutshell- If you pluck the string on one guitar, the same string on another will vibrate… this is how the masks work with your body.
The image of the mask activates the chosen center in the body and transformation happens.
On the way into transforming, the body clears blocks to the archetype through somatic and emotionally expressive movement. Thus, the masks have a healing effect while getting you into the images in YOU! You can transform into anything.
"Nothing human is foreign to me" -Terentius
Cancellation Policy
Refund available up to 14 days before the event less a $75 processing fee.
No refunds available less than 14 days from the start of the event.
Partial refunds might be given if a cancellation takes place under extenuating circumstances (e.g. a death of a 1st or 2nd degree family member, serious non-preventable illness or accident requiring hospitalization). Refunds in such cases remain at the discretion of the local organizers and will be decided on a case to case basis according to the timing of the cancellation and other factors.
COVID Precautions
No specific requirements on vaccination status are needed to attend this event. However, ALL registrants are required to take an antigen test on the day of before arriving on Thursday, November 16th at Earthdance. If you need a test, Earthdance will have them available to purchase for $10 each.
Please take adequate measures to limit your exposure in the days before arriving. If you are feeling sick, or have a known close exposure to someone with COVID in the past 5 days, please sit this one out to keep the community well.
COMMUTERS: We ask that you please use caution when commuting and limit, if possible, to just commuting to and from your home and Earthdance, staying away from large crowds to maintain the health and well being of the other participants.
Participant Community Support
Earthdance runs as a​ community, thus part of the participation is that all individuals contribute to 1-2 work shifts (typically meal cleans) throughout the event and participate in a final house clean on the last day of the event. These are great ways to connect more with your fellow participants and Earthdance staff, and to feel more at home in the Earthdance buildings & grounds. Your contributions to this collective caring of this space are invaluable!
Earthdance's buildings are ADA accessible. More info here.
HOST BIO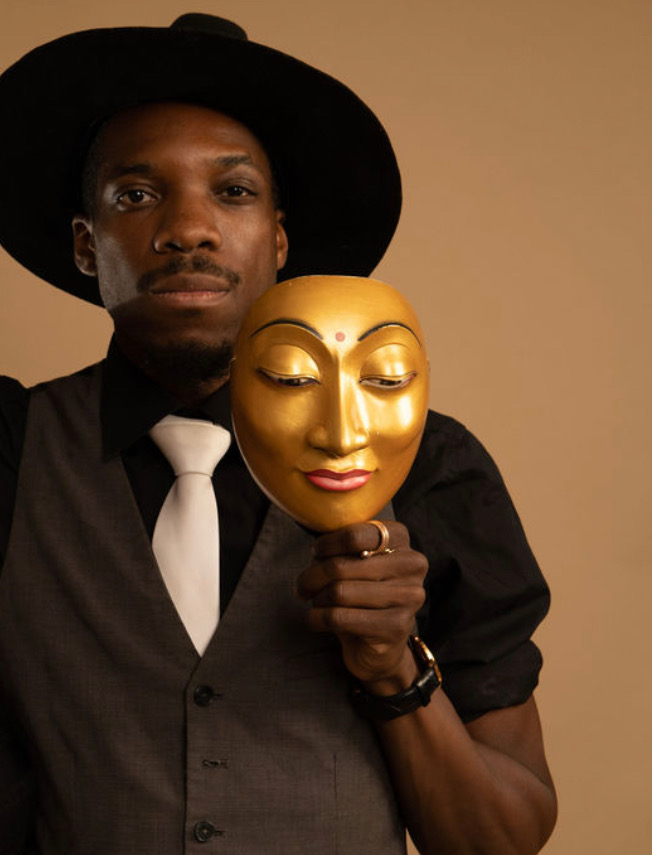 Akil Apollo Davis is a full time Performing Artist and Theatre Professor. Akil grew up with Hip-Hop dance in the everyday culture of Memphis TN (watch "House Party" the movie) and began theatre at 12 years old, and got his Bachelors in Theatre from the prestigious NYU TISCH School of the Arts. During that time his dance, music, and performance training and practices intensified dramatically.
He is the teacher of an extremely rare form of Mask work: only 3 human beings teach it. The Masks are designed by Akil and/or his mentor, Per Brahe. After being hand carved from wood and painted by a Balinese Mask-Making Brahman (Priest), they are taken through a cleansing ceremony in a special temple. In this work, the Masks use the power of image to aid in transformation.
Akil is an avid and professional dancer. He has received extensive training in 4 forms of Balinese dance, 3 forms of Thai Classical dance, Modern, Butoh, African, Ballet, Jazz, Butoh, multiple styles of Fan dancing, contact improv and Acro yoga.
He is a an award-winning playwright and director (NYC Fringe Festival "SUMMER BLUE": Winner: most innovative production) an MC, poet, and educator.
Akil is also a lyricist, freestyle rapper (improvisational verse) poet and composer. He has collaborated with many musicians to create music and video content for himself and his alter-ego "Diamond Adronica De La Funk".
Akil has taught Theatre and Dance all over America, in over 12 countries, and is now a Professor of Mask and Art Aesthetic at William Esper Studio (previously NYU and SUNY Purchase).
He has trained with Brahmans, Witches in the East Village and Monks in Thailand and works to bridge the gaps between classical knowledge and esoteric education. This has led to inspiring collaborations and panel discussions with psychologists at Pace University, University of Memphis, and NYU on emotional development, Suicide prevention and awareness, and the power of image.