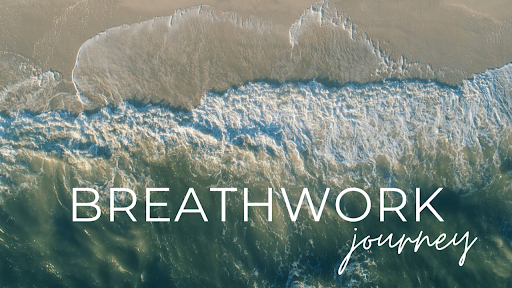 Liberate your true nature and core connection to wellness through the brilliant power of breath. An active, heart-centered and body-informed meditation, breathwork invokes an ecstatic experience that strengthens your connection to the part of you that knows how to heal, beneath any patterns and chronically held tension in the body. Breathwork is an integration of body-mind-heart-spirit experiences that has the potential to radically transform your life in just a single session. It is a journey to a state of elevated consciousness, revelatory experience, somatic awareness, and energy attunement.
Breathwork activates your inner healer, reveals pathways of healing, and empowers you with life-affirming direction. Effects are multidimensional, touching upon the physical, intellectual, emotional, and spiritual aspects of oneself, ways of being, relationships, and life choices. Participants are supported in a trauma-informed empathic space rooted in community and authentic expression.
The power of live improvised music will amplify your inner journey, taking your breathwork experience to a new level. Sound healing artist Char Malin channels soundscapes of live-looped vocals and strings to create a container for transformation. Energies range from lush and ethereal, to energizing and empowering, to tender and nourishing. Live sound medicine augments all the amazing benefits of breathwork, and can profoundly assist the practitioner in reaching states of elevated consciousness and emotional release. Additional benefits include regulating the nervous system, creating harmony between body systems, aligning and clearing the energetic field, activating your creative channels, and so much more.
We look forward to being with you and supporting you on this journey into peace, well-being, and a sense of reclaimed freedom and vitality.
Breathwork Journey Workshop Details
Please arrive by 5:45pm to give yourself some time to prepare for the workshop.
We will begin by coming together as a group and discussing the process before breathing together.
The experience is followed by relaxation, and self care next steps.
Consider wearing comfortable, loose clothing, and bring water, a yoga mat, blanket and pillow(s) to support your journey.
We will then move into a sweet potluck afterwards. Bring your favorite potluck dish to help nourish and integrate this rich journey together.
Share our Facebook Event!
PRICING
Workshop starts at 6pm. Please arrive by 5:45pm. Potluck to follow.
$85 – Financially Wealthy
$70 – Financially Abundant
$55 – Financially Stable
$40 – Financially Coping
$30 – Financially Strained
Potluck: Please bring a dish to share for the potluck afterwards OR donate $10-$15
***If you find that you are struggling financially or there are other circumstances that are making it difficult to join this special workshop, please email programming@earthdance.net with your situation so that we can create a way to have you join us.***
Sauna with use of 2 Earthdance towels for $10
If you wish to extend your visit and stay overnight in a dorm bed in our Gratitude Lodge is $40 (Rental of sheets and towel is $15) or $30 to camp* Includes access to the sauna and kitchen use but does not provide food.
Cancellation Policy
Refund available up to 10 days before the event less a $20 processing fee for workshop.
No refunds available less than 10 days from the start of the event.
Partial refunds might be given if a cancellation takes place under extenuating circumstances (e.g. a death of a 1st or 2nd degree family member, serious non-preventable illness or accident requiring hospitalization). Refunds in such cases remain at the discretion of the local organizers and will be decided on a case to case basis according to the timing of the cancellation and other factors.
COVID Precautions
No specific requirements on vaccination status are needed to attend this event. Please take adequate measures to limit your exposure in the days before. If you are feeling sick, or have a known close exposure to someone with COVID in the past 5 days, please sit this one out to keep the community well.
Earthdance's buildings are ADA accessible. More info here.
HOST BIOS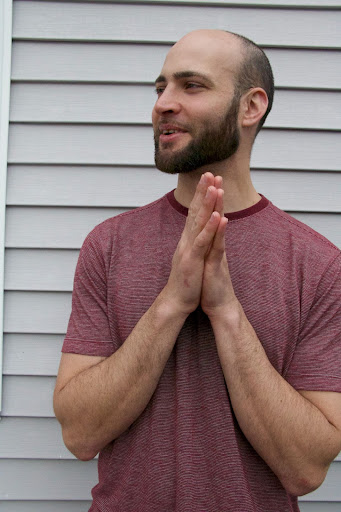 Jordan Grinstein is a multifaceted educator who has guided thousands of students over the past thirteen years in a range of healing modalities including breathwork, dance, meditation, and yoga. His mission is to inspire people to be leaders in their lives by using education and wellness practices as tools for personal empowerment, and to support the healing journeys of individuals, families, and communities. As the mindfulness director of Shrewsbury Public Schools, he trains students to be wellness and meditation facilitators for their peers, and strives to create a more just and liberated education system while supporting the social emotional wellness of school communities. He is an Ayurvedic Practitioner, meditation coach, yoga teacher trainer, and a facilitator of racial equity workshops. Centering equity as a core value in his life and work, he develops culturally responsive, trauma-informed curricula rooted in community, authentic expression, vulnerability, rest, and social justice. To learn more about Jordan and his work in education visit wholeschoolmindfulness.org and ivychild.org.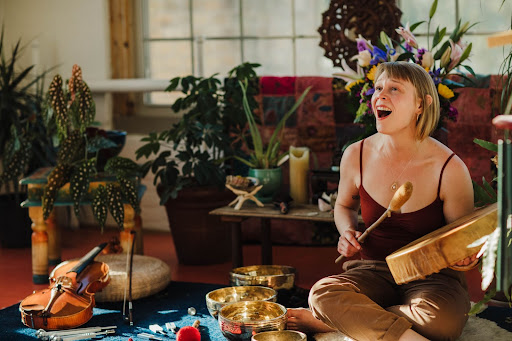 Char Malin is a violinist, violist, singer/songwriter, teacher, and healer guiding people into direct, communal, and transformational encounters with music. She is passionate about bringing audiences, clients, and students into aliveness and authenticity through encounters with sound. Her offerings and projects include Holistic Classical concerts, sound healing journeys, vocal improvisation workshops & song circles, and compositional sound projects for dance, film, and podcasts. She is currently working on her first full album of original music, titled Welcome Home. Malin currently serves as the Viola Instructor at Amherst College and lives in Northampton, MA.