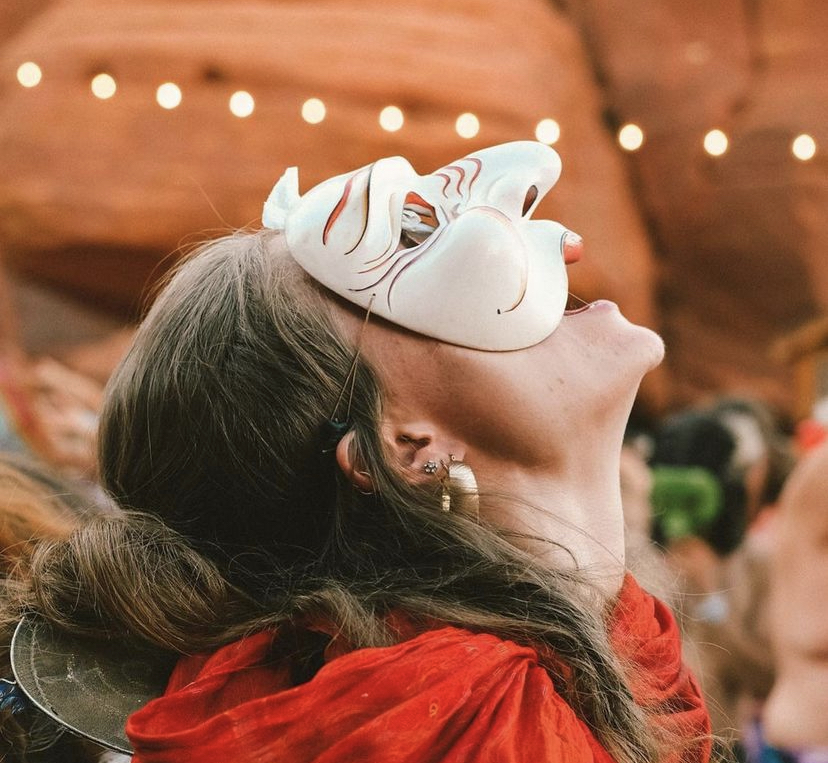 Hello to all the seekers, curious minds, artists, dance enthusiasts, actors, performers, public speakers, and those who are looking for healing, self-discovery, and self-expression!
We're thrilled to introduce a new collaborator who brings one of the most unique, powerful, and magical forms of Mask Work to the spotlight: Akil Apollo Davis. He's one of only three Master teachers of The Brahe-Davis Method of Mask in the world. Masks have always held an intricate connection to the depths of the human psyche, a tangible bridge to archetypal images and centers that are within us all.
As we embark on this collaboration with Akil Apollo Davis, we're excited to offer a special opportunity for both the Earthdance (ED) community and the local community to explore this groundbreaking work. This introduction evening to Mask Work won't just prepare you for upcoming classes; it will also reshape the way you see yourself, your body, your understanding of images, our cultural influences, and your potential to transform.
Akil aims to make this experiential knowledge accessible. So, this opportunity comes at a discounted price and is open to those aged 13 and up. Join straight after work, we'll provide snacks, and wear comfortable clothes for dancing and moving. It's all about free-form movement!
Akil will be facilitating a weekend long Mask Workshop: Archetypes and the Metamorphosis-Masquerade on November 16th – 19th, if you feel called to deepen this work and explore archetypes within you.
SHARE OUR FACEBOOK EVENT!
WHY SHOULD YOU JOIN?
Transformation is one of the most potent forces within us. It's how we grow, learn, heal, and inspire. The Brahe-Davis masks directly engage your body's natural transformative ability. Here are the benefits you can expect:
– Seekers and the curious: Dive deep into your SELF, exploring images, thought patterns, and cultural influences that both hinder and empower you. This is about unlocking your transformational potential.
– Actors and Performers: Experience astonishing expansion in physicality and find new dimensions of inspiration.
– Movers & Dancers: Enhance and enrich your expression, adding a unique "transformation" to your dance journey.
– Healing: Akil reveals a fascinating insight – "Did you know that trauma is the German word for dream? It's an image that isn't real, yet it lingers." This underlines the power of images. The MASK WORK delves into negative images and replaces them with true self-images, facilitating profound change from within.
– Play and Exploration: The Masks liberate! Akil's workshops create a space for intentional exploration. It's a space for unleashing your inner child, creativity, and self-expression. It's invigorating, joyful, and enlightening.
Here's the schedule for the evening:
– 6:00 pm – Doors open (arrive shortly after)
– 6:15 pm – Open dance session
– 6:30 pm – Talk on "The New Definition of Narcissism"
– 7:00 pm – (final arrivals – doors close) "The Masks Explained"
– 7:30 pm – 9:00/9:30 pm – Mask play
– 9:00/9:30 pm – 9:30/10:00 pm – Reflection, discussion and movement
PRICING
Financially Wealthy – $250
Financially Abundant – $175
Financially Stable – $100
Financially Coping – $50
Financially Strained – $30
Sauna with use of 2 Earthdance towels for $10
Stay Overnight: If you wish to extend your visit and stay overnight in our Gratitude Lodge dorm bed is $40. (Rental of sheets and towel is $15) Or, camping which is $30. * Includes access to the sauna and kitchen use but does not provide food.
***If you find that you are struggling financially or there are other circumstances that are making it difficult to join this special workshop, please email programming@earthdance.net with your situation so that we can create a way to have you join us.***
The "Magic", Power and Function Within the Masks
These masks are unlike any you've encountered before. Beyond mere accessories, they hold the key to your inner transformation. While other masks may change your external appearance, The Brahe-Davis Method of Mask sparks change from within. As Terentius wisely said, "Nothing Human is far into me." We possess the innate ability to embody various facets of human experience, often blocked by guilt, shame, and limiting beliefs. Each mask carries an intentional image, infused through a sacred process. This image connects with your body, tapping into the Egyptian concept of over 100 senses, including sensitivity to images with potent intentions. Just as plucking a guitar string creates resonance in the same string on another guitar, these masks resonate the image within you, facilitating your transformation.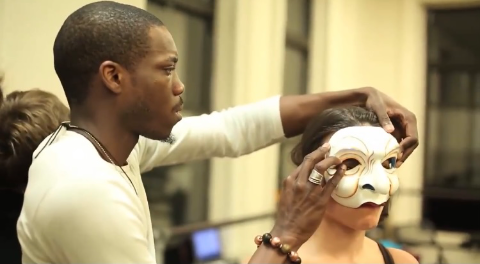 Cancellation Policy
Refund available up to 10 days before the event less a $20 processing fee.
No refunds available less than 10 days from the start of the event.
Partial refunds might be given if a cancellation takes place under extenuating circumstances (e.g. a death of a 1st or 2nd degree family member, serious non-preventable illness or accident requiring hospitalization). Refunds in such cases remain at the discretion of the local organizers and will be decided on a case to case basis according to the timing of the cancellation and other factors.
COVID Precautions
No specific requirements on vaccination status are needed to attend this event. Please take adequate measures to limit your exposure in the days before. If you are feeling sick, or have a known close exposure to someone with COVID in the past 5 days, please sit this one out to keep the community well.
Earthdance's buildings are ADA accessible. More info here.
HOST BIO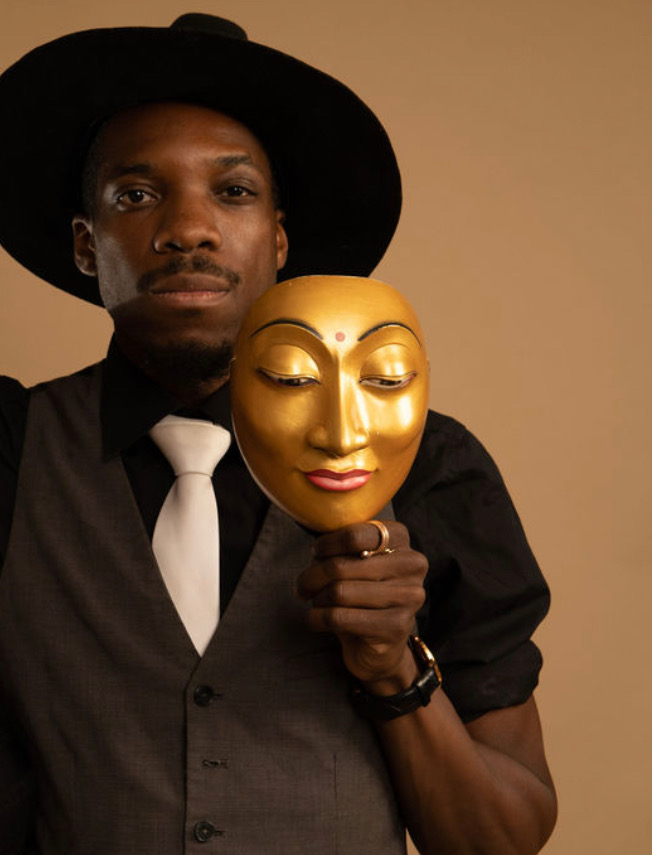 Akil Apollo Davis is a full time Performing Artist and Theatre Professor. Akil grew up with Hip-Hop dance in the everyday culture of Memphis TN (watch "House Party" the movie) and began theatre at 12 years old, and got his Bachelors in Theatre from the prestigious NYU TISCH School of the Arts. During that time his dance, music, and performance training and practices intensified dramatically.
He is the teacher of an extremely rare form of Mask work: only 3 human beings teach it. The Masks are designed by Akil and/or his mentor, Per Brahe. After being hand carved from wood and painted by a Balinese Mask-Making Brahman (Priest), they are taken through a cleansing ceremony in a special temple. In this work, the Masks use the power of image to aid in transformation.
Akil is an avid and professional dancer. He has received extensive training in 4 forms of Balinese dance, 3 forms of Thai Classical dance, Modern, Butoh, African, Ballet, Jazz, Butoh, multiple styles of Fan dancing, contact improv and Acro yoga.
He is a an award-winning playwright and director (NYC Fringe Festival "SUMMER BLUE": Winner: most innovative production) an MC, poet, and educator.
Akil is also a lyricist, freestyle rapper (improvisational verse) poet and composer. He has collaborated with many musicians to create music and video content for himself and his alter-ego "Diamond Adronica De La Funk".
Akil has taught Theatre and Dance all over America, in over 12 countries, and is now a Professor of Mask and Art Aesthetic at William Esper Studio (previously NYU and SUNY Purchase).
He has trained with Brahmans, Witches in the East Village and Monks in Thailand and works to bridge the gaps between classical knowledge and esoteric education. This has led to inspiring collaborations and panel discussions with psychologists at Pace University, University of Memphis, and NYU on emotional development, Suicide prevention and awareness, and the power of image.