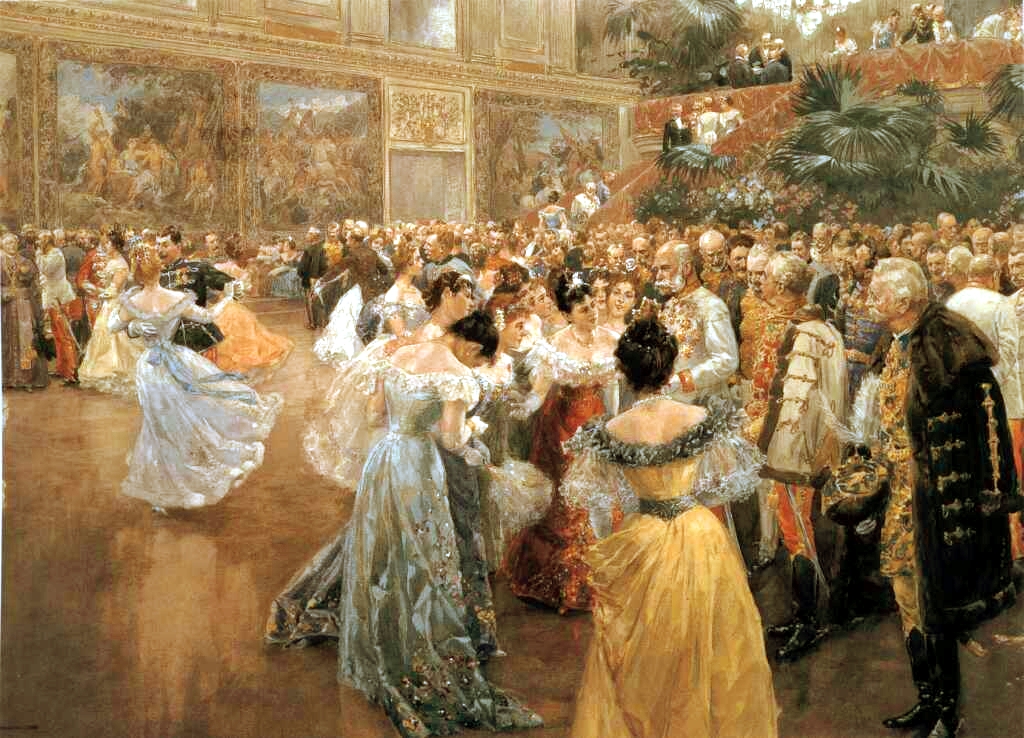 Dear Sovereign,
This is your official invitation to the Royal Ball!
Your Majesty, this is guaranteed to be the event of the year. You certainly wouldn't want to miss the chance to show off your fanciest dress and extravagant wealth to the other invited Regals. It would be the suggestion of this humble messenger to engage immediately your best tailors, dressmakers, and costumers to be certain you and your country are properly represented at this most auspicious gathering.
All Kings, Queens, Princes, Princesses as well as Emirs, Emperors, and Majesties of any variety including Tribal leaders and Monarchs from all lands are invited. Leaders great and small from any land whether it be on this planet, the cosmos or any other realm. Come and display your wealth and generosity to Earthdance. Stand for your peoples. Let all the assembled know the greatness of your nation. Please note this gathering is for heads of state only no religious leaders will be allowed entry.
Any Majesties who are traveling far are invited to stay overnight at the castle.
*Your host for the evening will be none other than the esteemed Justis Hatch who has graciously called for this gathering as a gift to Earthdance and our exalted community in honor of his Birthday. Let us arrive adorned in our most festive garments, feast and put our hearts on the dance floor in honor of his Greatness on this day.
The Royal Feast
This collaborative feast is a great time to share your country's many delicacies. We ask that all guests bring their specialty cuisine for the sampling of the other exalted guests. The Feast will begin at 4pm to 6.30pm.
The Royal Ball
Please arrive promptly at 7:30pm so the Herold can properly introduce you to the court. The Royal Court Musicians – Charlotte Malin, Sean Patrick Maher, and Levi Gershkowits will serenade us with a fusion of classical and contemporary musical scores. Later in the evening, for the continued pleasure of our guests, music will be produced by DJ Andrew Mangold
The sauna will of course be hot and ready for any Royalty who wish to warm themselves.
The Royal Gifts
This is a fundraiser after all, to that end we are asking our guests to graciously gift Earthdance with your riches. The full value of your entry ticket will be matched twice over. First by the Facilities Matching Grant granted by the Mass Cultural Council, then additionally by a generous anonymous donor. This means that every dollar you give becomes four dollars for Earthdance.
The Royal Court Musicians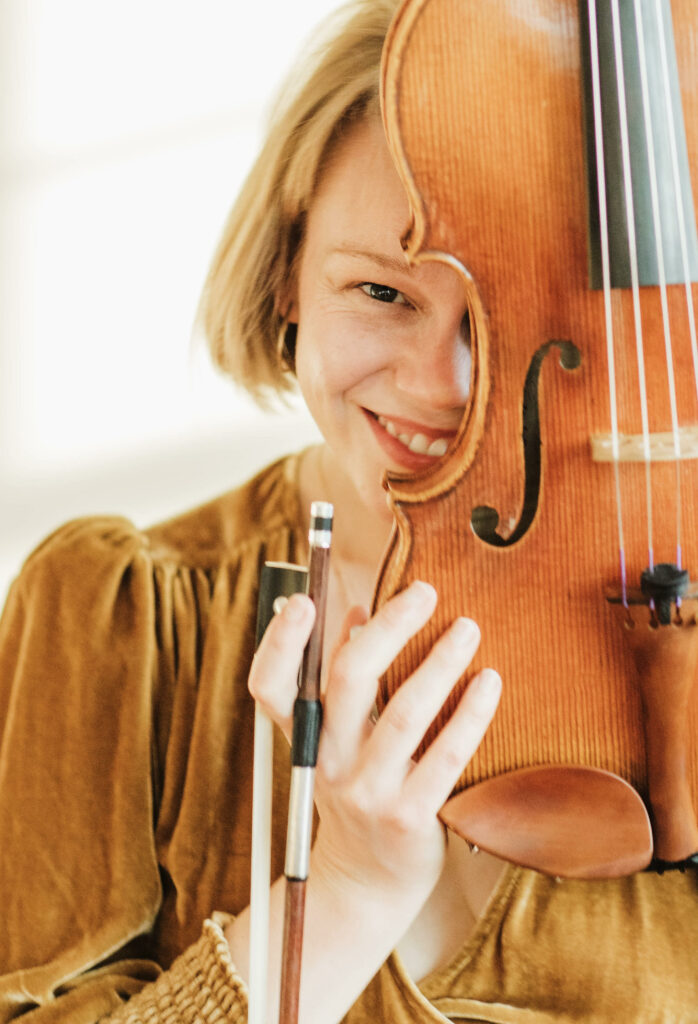 Charlotte Malin is a violinist, violist, singer/songwriter, teacher, and healer guiding people into direct, communal, and transformational encounters with music. She is passionate about bringing audiences, clients, and students into aliveness and authenticity through music. Her offerings and projects include embodied classical concerts called Bach In Your Body, sound healing journeys, vocal improvisation workshops & song circles, and compositional sound projects for dance, film, and podcasts. She is currently working on her first full album of original music, titled Welcome Home. Malin currently serves as the Viola Instructor at Amherst College and lives in Northampton, MA.
As a classically trained violin and viola player, Malin holds cum laude performance degrees from New England Conservatory and Northwestern University. She has collaborated closely with luminaries of the classical world including Yo-Yo Ma, Midori, and Kim Kashkashian, and has performed extensively throughout the US, Europe, Asia, and South America. Additionally, she has held positions as Principal Viola of the Hudson Valley Philharmonic, the Tanglewood Music Center, the Hartford Symphony, the Albany Symphony, the Sarasota Opera Orchestra, and the Peninsula Music Festival in Door County WI.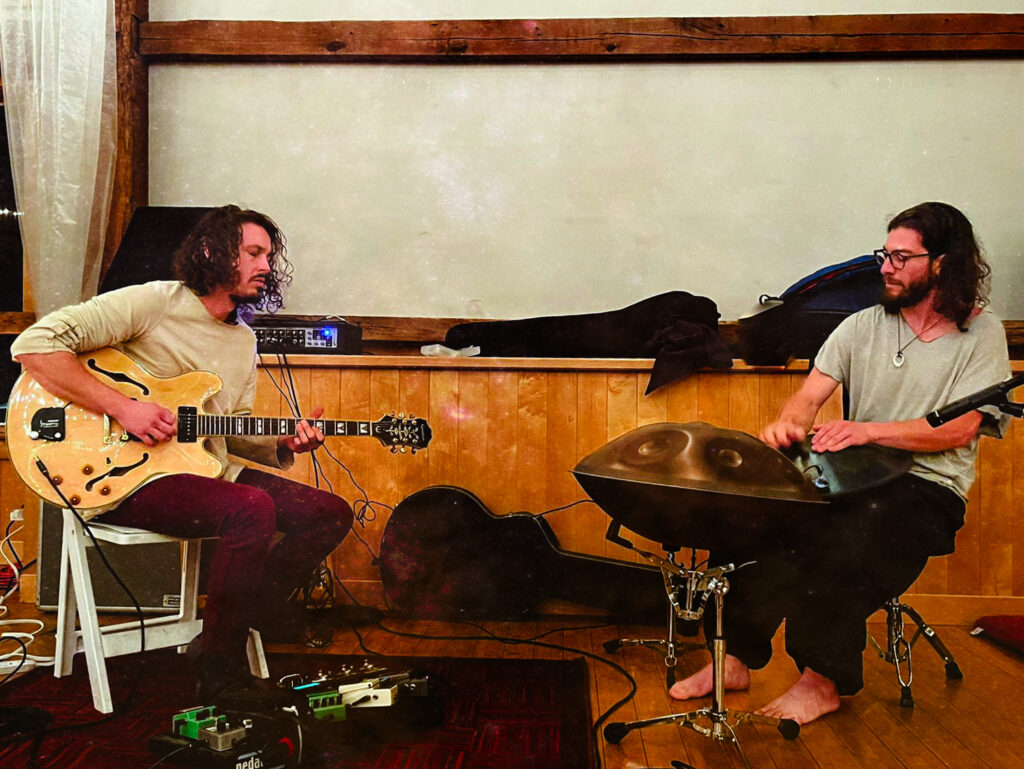 Silhouettes of Silence is a duo formed in 2019 in exploration of the quality, texture and weather patterns of sound and the space that remains when sound is constructed and then removed.
————————
Levi Gershkowitz (Handpan, Flute and Saz) is a multi-instrumentalist and improvisational performer. The music he creates stems from a mirrored ear held to the natural world, as well as personal relationships he holds dear with instrument builders and musicians around the world. Since 2015, he has embarked on an exploration of Handpan/Pantam and other Hang-inspired instruments, seeking unique pairings of these enchanted sound sculptures with traditional Turkish instruments, cello, piano and guitar.
Sean Patrick Maher – Weaving together tapestries of ambience, texture, rhythm, and melody, Sean Patrick illuminates the dark spaces of the heart and amplifies the subtle song of the spirit. Improvisation is the vessel through which he expresses the language of feeling that words simply fail to serve. Sean Patrick has been a musician for most of his life, and after a spontaneous experience of deep healing through the power of sound, he immersed himself in the art and science of Sound Healing and continues to employ these principles in every creation and performance he enters. With a background in VibroAcoustic music production, ambient sound healing, and improvisational jam music, Sean Patrick delivers a diverse sonic experience of ambient textures, echoing atmospheres, and live guitar melodies.
COVID Precautions
No specific requirements on vaccination status are needed to attend The Royal Ball. All guests, before or upon arrival, are asked to take an antigen test supplied by them or purchased from Earthdance at $10. Please take adequate measures to limit your exposure in the days before. If you are feeling sick, or have a known close exposure to someone with COVID in the past 5 days, please sit this one out to keep the community well.
Earthdance's buildings are ADA accessible. More info here.