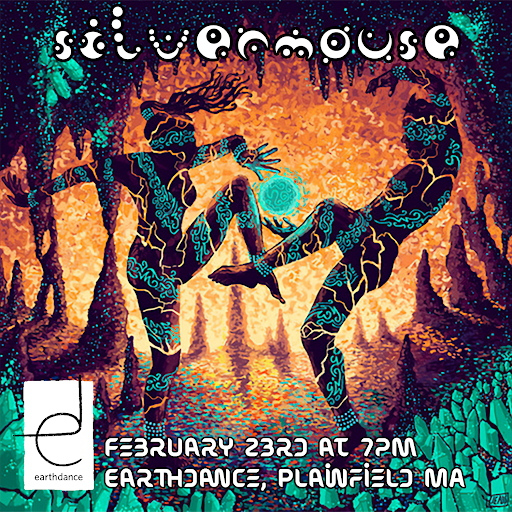 Immerse yourself in an evening of live improvised jamtronica with Silvermouse.
Starting with a few home shows in Puerto Rico in November and December, Silvermouse will be breaking ground in the psychedelic music industry by touring the first live show supported by the consciousness-altering signals of Monroe Sound Science. The signals encompass a range of frequencies designed to stimulate brain activity that, in conjunction with the music, creates a mental space supporting an ecstatic experience.
While the ability to create altered states of consciousness through brainwave entrainment has been known about and experimented with for over half a century, it has rarely peeked its head outside the realm of meditation music. After several releases and a series of Signal Tests in Puerto Rico and England, where the technology was introduced to live audiences for the first time, Silvermouse is hitting the road in 2023 to bring their unique sound and experience to the world.
Joanne Hunt is a live electronica producer – creating her own beats and basslines in real time. Justin Handley is a multi-instrumentalist playing guitar, violin, mandolin, flute, and ukulele. Together they create epic soundscapes of rhythm, beauty, and chaos. In their current series, Psychoactive*, the band is experimenting with the power of Monroe Sound Science – a brainwave entrainment technology from the Monroe Institute – as a supportive measure to create deep spaces for experiences in consciousness in synch with the music.
They will be discussing the technology and answering questions as well as performing a two hour live set.
*Psychoactive refers to invoking consciousness through music and movement. There will be no substance use at this event.
Share our Facebook Event!
Pricing
$75 – Financially Wealthy
$60 – Financially Abundant
$45 – Financially Stable
$35 – Financially Coping
$25 – Financially Strained
***If you find that you are struggling financially or there are other circumstances that are making it difficult to join this special workshop, please email programming@earthdance.net with your situation so that we can create a way to have you join us.***
Sauna: $10 with use of 2 Earthdance towels.
Potluck Dinner: Bring a dish to share or a suggested donation of $5 to $10
If you wish to extend your visit and stay overnight, cost of bed in the Gratitude dorm is $40. Includes access to the sauna and kitchen use but does not provide food. (Rental of sheets and towels is $15)
Cancellation Policy
Refund available up to 10 days before the event less a $10 processing fee.
No refunds available less than 10 days from the start of the event.
Partial refunds might be given if a cancellation takes place under extenuating circumstances (e.g. a death of a 1st or 2nd degree family member, serious non-preventable illness or accident requiring hospitalization). Refunds in such cases remain at the discretion of the local organizers and will be decided on a case to case basis according to the timing of the cancellation and other factors.
COVID Precautions
No specific requirements on vaccination status are needed to attend this event. Please take adequate measures to limit your exposure in the days before. If you are feeling sick, or have a known close exposure to someone with COVID in the past 5 days, please sit this one out to keep the community well.
Earthdance's buildings are ADA accessible. More info here.
HOST BIOS
Silvermouse weaves mind-bending psychedelic soundscapes with live electronica and live multi-instrumentals. Drawing from their roots in UK rave culture and American jam rock, their sound is distinguished by bass and violin, grounding synths, percussive rhythms, flying guitar riffs, and signature spiraling improvisational live performances. Silvermouse's current project, 'Psychoactive,' is a deep journeying dive into the potential of music as a psychoactive entity. The pair have been elevating their sound with spatial audio and Monroe Sound Science, using brainwave entrainment signals to create a safe container and a trigger for altered states, consciousness exploration, and mind-soul axis elevation.