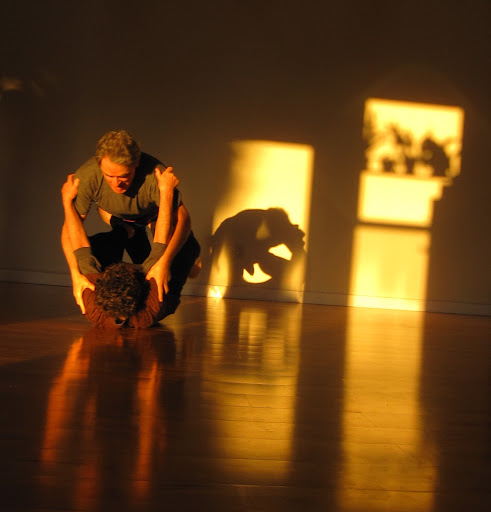 Come gather to feast, dance, and give thanks with us from Thursday, November 24 through Sunday, November 27. The long weekend will be filled and spacious with contact improv classes and jams, as well as other delicious offerings to feast upon. Thanksgiving day feast will be a coordinated potluck!
Thanksgiving offers us a time to intentionally nurture and give attention to our gratitude—a time to come more alive to what we're grateful for. Among the many things we're grateful for at Earthdance is the new life flowing in after the pandemic, and the richly connective community we get to be part of here
And, Thanksgiving (as a harvest-centered holiday) is especially about gratitude for the abundance of the earth. We are supported—in every breath, atmospherically, gravitationally, nutritionally, spiritually/relationally—by this living earth, the more-than-human landscape, inviting us into our deeper wholeness.
Intermingled with our gratitude, we may also harbor grief, say, for a lack of felt connection with the earth, or for the loss of biodiversity. When this bedfellow of gratitude hasn't been felt and allowed to move through, the natural flow of gratitude can also be stifled.
In contact improv, the ground [the earth] is our primary partner. We're always in its gravitational field, always coming back, trusting our way back, again and again, to its stable support. Can we extend this practice, staying in vital, pleasurable relationship to the earth that we all are, even when grief is in the mix? Can we unclench around the life that dances us? Can we move toward secure attachment with our primary partner: this ever-present lover, the earth?
Join us for a long weekend of dance and deliciousness, movement and stillness, fullness and emptying, as we come more alive into connection with ourselves, each other, and the good earth that sustains us.
Jam Details
An average of 50-70 people will attend this jam and is open to all movement levels & backgrounds.
We have single day drop-in options for folks who have been to Earthdance before.
If you have never been to Earthdance, we ask that you only sign up for either Thanksgiving Day or the full jam (either Thanksgiving Day through Sunday or Friday through Sunday). This will allow us to better welcome you and orient you to Earthdance.
If you are planning to attend Thanksgiving Potluck dinner, and you have registered, we will send out a shared document for folks to coordinate dishes to bring. We will start dinner at 5pm.
Our Fees Explained
Earthdance offers a sliding scale payment for participation in this event, please take a moment to reflect as you decide on where you best fit.
Your level of contribution is self selected and does not need to be advocated for. However we invite you to remember this contribution is currency and we ask that you stretch where you are able so that those who cannot stretch as far of a financial distance may also have potential access to community events. As you choose your rate please consider the following factors:
Your access to income and wealth, as connected to family and partnership, both currently and anticipated in the future.
The historical, systemic impacts of wealth accrual based on culture, race and other intersection marginalizations for you and your family.
The regional ease of your attendance, while some community members can drive to Earthdance, others will need to consider tuition based on their ability to travel longer distances.
Earthdance is a community and rental funded organization which recently, historically and uniquely through the Covid-19 pandemic has struggled to have viable income.
**Unfortunately, Nine Mountain is unavailable for this event.**
Equity & Access Tickets
Although we're not able to offer any full scholarships this year, we're excited to offer up to 10 highly reduced Equity & Access Tickets to individuals who feel part of an underrepresented and/or marginalized group in CI, have a relationship with CI, and who have (ideally) not attended an Earthdance seasonal jam before. We know that for those who come from marginalized populations showing up to spaces filled with primarily privileged groups can be a challenge, and can feel vulnerable. "Apply" and see more details here. For transparency and context, in the past, and we hope in the near future, we offered 3-5 full DEI scholarships.
For those who do not identify as marginalized and are in a represented group of CI, we invite you to stretch in your payment to help support those who cannot stretch and create a more diverse jam experience for all.
Housing Options
Tickets include room at the Earthdance Dormitory and full board. The Gratitude Lodge (a.k.a. the Earthdance dorm) is the main lodging facility, connected to the Farmhouse by a short wooded trail. The lodge includes large and small rooms featuring dormitory-style bunks and beds (twin & queen size) and is included in the base Jam cost. Beds are available on a first come basis.
Cancellation Policy
Refund available up to 8 days before the event less a $75 processing fee
No refunds available less than 8 days from the start of the event.
Partial refunds might be given if a cancellation takes place under extenuating circumstances (e.g. a death of a 1st or 2nd degree family member, serious non-preventable illness or accident requiring hospitalization). Refunds in such cases remain at the discretion of the local organizers and will be decided on a case to case basis according to the timing of the cancellation and other factors.
COVID Precautions
No specific requirements on vaccination status are needed to attend the Gratitude Jam. All registrants upon arrival are required to take an antigen test supplied by them or purchased from Earthdance at $10. Please take adequate measures to limit your exposure in the days before. If you are feeling sick, or have a known close exposure to someone with COVID in the past 5 days, please sit this one out to keep the community well.
Participant Community Support
Earthdance runs as a​ community, thus part of the participation is that all individuals contribute to 1-2 work shifts (typically meal cleans) throughout the jam/workshop and participate in a final house clean on Sunday. These are great ways to connect more with your fellow participants and Earthdance staff, and to feel more at home in the Earthdance buildings & grounds. Your contributions to this collective caring of this space are invaluable!
Earthdance's buildings are ADA accessible. More info here.
BIOS
John Adams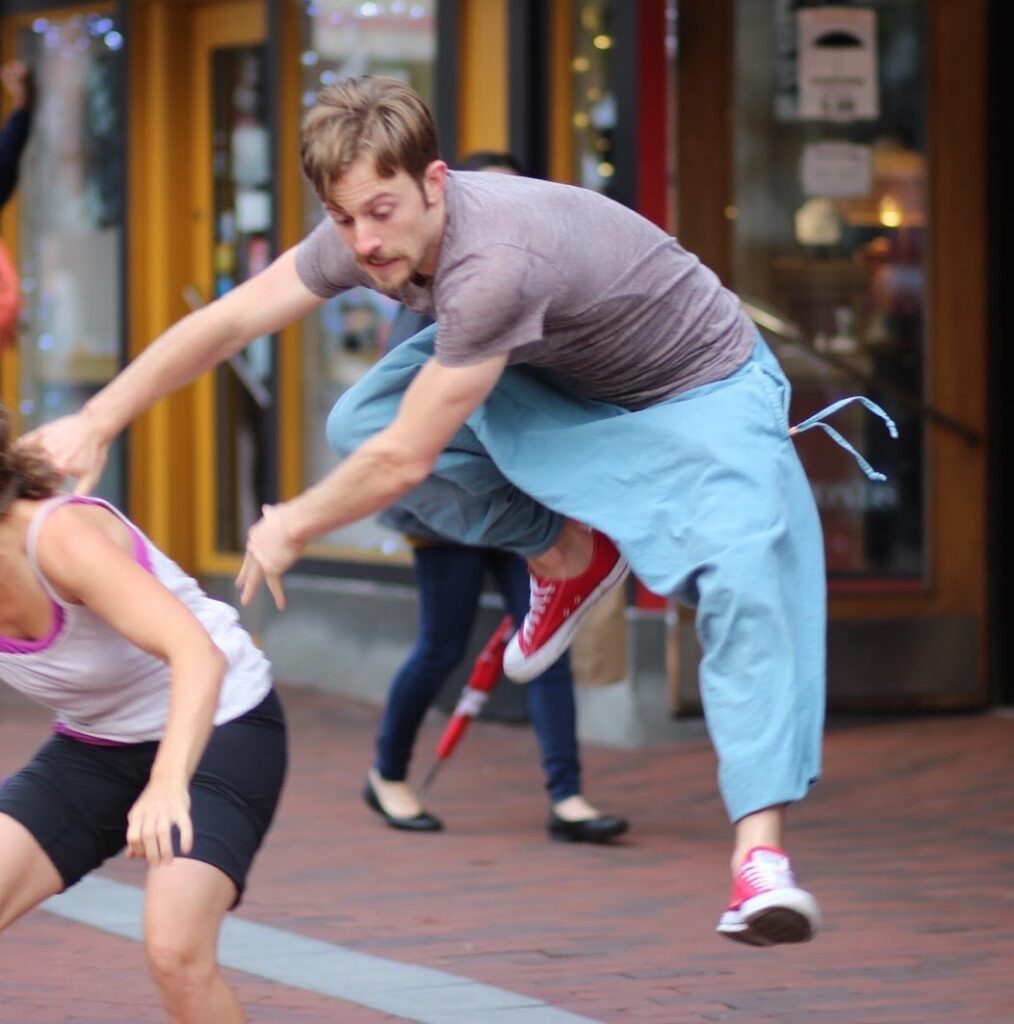 John is, among other things, a transdisciplinary academic, structural bodyworker (rolfer), facilitator of an interpersonal meditation practice (authentic relating/circling), non-practicing IFS-based coach, and breath therapy practitioner. He's taught contact improv across Texas, including for Texas A&M University's dance program. He has a BS in ecological restoration, focusing on agroecology. His dope-ass graduate thesis shows how the quality of the relationships to our own bodies, to other humans, and to the more-than-human world, is a core determinant of human health and function; in so doing, it provides a non-dualistic framework for understanding whole-systems well-being. He's currently a house elf at Nine Mountain.
Gabrielle Revlock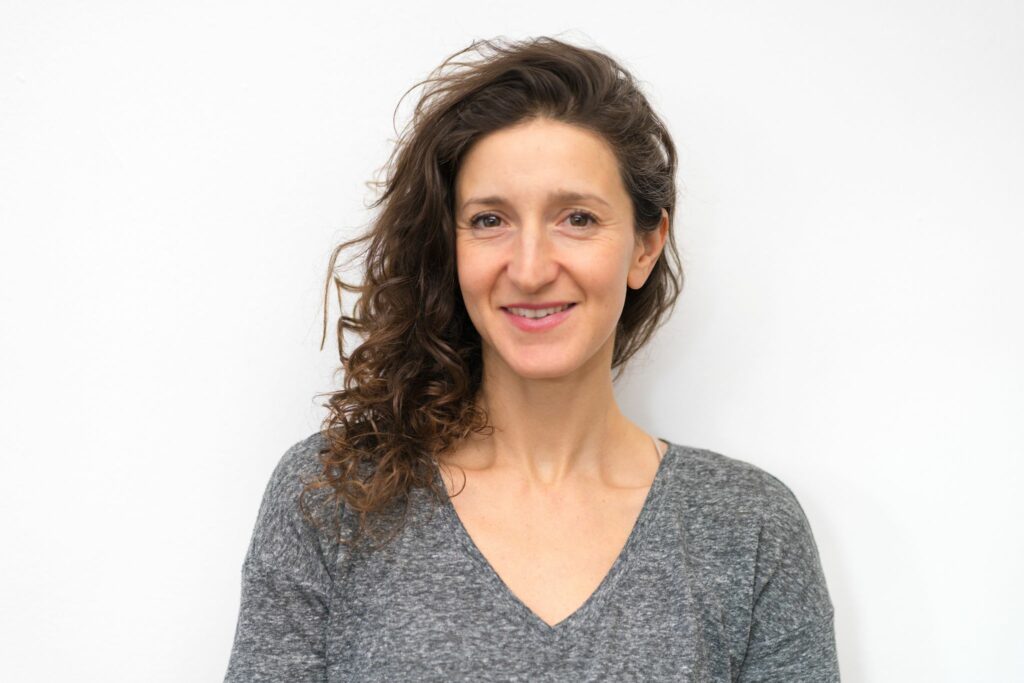 Gabrielle Revlock is a Bessie Award winning choreographer, performer, improviser, somatics educator and creator of Restorative Contact, a mindful touch-based movement practice. Her choreographic work depicts complicated but relatable interpersonal relationships, developed through meticulous character study and improvisational structures. Her work has been presented across the USA, in Japan, Netherlands, Singapore, Hungary, Russia and India and in NYC at venues including New York Live Arts, JACK, The Flea, Joyce Soho, Gibney and CPR. She was a 2019 Target Margin Institute Fellow and in 2018 she was named 'Newcomer of the Year' by the performance journal Tanz. As a dancer, she has performed for Lucinda Childs, jumatatu m. poe, Susan Rethorst, Leah Stein, David Gordon, Christopher Williams, Vicky Shick, Bill Young and Jane Comfort. Revlock has taught Restorative Contact online and at various dance and wellness studios in addition to being an invited speaker at the 2022 Critical Mass: CI@50, 2020 Embodiment Conference, 2020 Dance & Somatics Conference and Future of CI Conference through Earthdance in 2021. For nearly 20 years she has been a practitioner of CI. When in NYC she has been a CI teacher for Movement Research and was a facilitator of the Brooklyn Contact Jam. She is currently living in Northampton, MA working as a teaching fellow/MFA candidate at Smith College. GabrielleRevlock.com