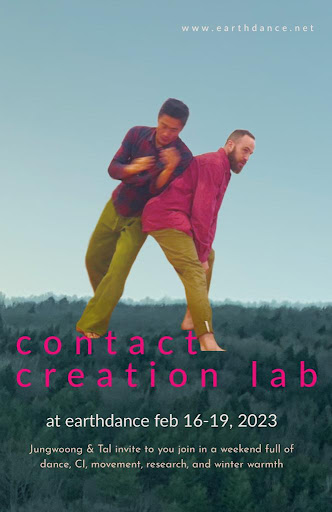 Tal Shibi and Jungwoong Kim invite you to join in a weekend full of dance, CI, movement research, and winter warmth.
Contact Quarterly offers a definition of Contact Improvisation from one of its founders, Steve Paxton:
Contact Improvisation is an evolving system of movement initiated in 1972 by American choreographer Steve Paxton. The improvised dance form is based on the communication between two moving bodies that are in physical contact and their combined relationship to the physical laws that govern their motion—gravity, momentum, inertia. The body, in order to open to these sensations, learns to release excess muscular tension and abandon a certain quality of willfulness to experience the natural flow of movement. Practice includes rolling, falling, being upside down, following a physical point of contact, supporting and giving weight to a partner.
Contact improvisations are spontaneous physical dialogues that range from stillness to highly energetic exchanges. Alertness is developed in order to work in an energetic state of physical disorientation, trusting in one's basic survival instincts. It is a free play with balance, self-correcting the wrong moves and reinforcing the right ones, bringing forth a physical/emotional truth about a shared moment of movement that leaves the participants informed, centered, and enlivened.
—early definition by Steve Paxton and others, 1970s, from CQ Vol. 5:1, Fall 1979
Now 50 years after its beginnings in New York performances conceived and directed by Paxton in June 1972, CI has been embraced and applied internationally by all kinds of movers for a wide variety of purposes, including choreography, dance training, work with children, seniors and other-abled people, therapy, visual arts and music, education, environmental work, social activism, and more.
This Creation Lab is an invitation to dancers and movers who wish to explore the language and strategies of CI in the context of choreography and performance. While appreciating the varying approaches and styles of individual practitioners and collectives, we aim to research common threads that recur through the form and use shared language to heighten communication, galvanize creativity, and fuel development of personal styles.
Drawing on their distinctive backgrounds and experiences in CI, Tal and Jungwoong will lead workshops designed to address the following elements:
· Gaining experience with and literacy in CI's movement language
· Finding personal excitement and pleasure in the form
· Identifying and unblocking barriers to being present and responsive
· Developing scores and score-making as vehicles for self-expression and collective creativity
This lab is designed for CI dancers with Basic comfort level and experience of CI technique alongside giving and receiving of weight is recommended.
Workshops will be geared to engage each participant's abilities and challenges. 
Arrival, Check In, and Opening Circle
Arrival: Participants may arrive at 4:00pm on Thursday, February 16th, 2023.
Check-In: The welcoming will commence from 4:00pm-6:00pm on Thursday, February 16th. If you arrive any time after 8pm we ask that folks check-in at 8:00-9:30am on Friday, February 17th.
*Please make sure that you have tested for COVID on the day of arrival. If you need a test, Earthdance will have them available to purchase for $10 each.
Opening Circle will be at 10:00am on Friday, February 17th. All participants must attend the Opening Circle.
Our Fees Explained
Earthdance offers a sliding scale payment for participation in this event, please take a moment to reflect as you decide on where you best fit.
Your level of contribution is self selected and does not need to be advocated for. However, we invite you to remember this contribution is currency and we ask that you stretch where you are able so that those who cannot stretch as far of a financial distance may also have potential access to community events. As you choose your rate please consider the following factors:
Your access to income and wealth, as connected to family and partnership, both currently and anticipated in the future.
The historical, systemic impacts of wealth accrual based on culture, race and other intersection marginalizations for you and your family.
The regional ease of your attendance, while some community members can drive to Earthdance, others will need to consider tuition based on their ability to travel longer distances.
Earthdance is a community and rental funded organization which recently, historically and uniquely through the Covid-19 pandemic has struggled to have viable income.
Pricing
$550 – Financially Wealthy
$475 – Financially Abundant
$425 – Financially Stable
$375 – Financially Coping
$325 – Financially Strained
*** This event is limited to 30 participants.***
Housing Options
Tickets include room at the Earthdance Dormitory and full board. The Gratitude Lodge (a.k.a. the Earthdance dorm) is the main lodging facility, connected to the Farmhouse by a short wooded trail. The lodge includes large and small rooms featuring dormitory-style bunks and beds (twin & queen size) and is included in the base Jam cost. Beds are available on a first come basis.
Equity & Access Tickets
Although we're not able to offer any full scholarships this year, we're excited to offer up to 3 highly reduced Equity & Access Tickets to individuals who feel part of an underrepresented and/or marginalized group in CI, have a relationship with CI, and who have (ideally) not attended an Earthdance seasonal jam before. We know that for those who come from marginalized populations showing up to spaces filled with primarily privileged groups can be a challenge, and can feel vulnerable. "Apply" and see more details here. For transparency and context, in the past, and we hope in the near future, we offered 3-5 full DEI scholarships.
For those who do not identify as marginalized and are in a represented group of CI, we invite you to stretch in your payment to help support those who cannot stretch and create a more diverse jam experience for all.
Note: While Earthdance is making efforts to better support Equity & Access at all its events, the New Year's Winter Jam offers particularly strong support for diversity, equity, and inclusion through:
Reduced pricing offered to people self-identifying as being underrepresented and/or marginalized in CI.
classes and discussions that aim to bring up the level of awareness and inclusion at the jam as a whole
affinity spaces (jams, discussions, etc.) for particular groups of people to connect, share CI space together, and rest from the pressures of being in a minority status at the jam.
Cancellation Policy
Refund available up to 14 days before the event less a $75 processing fee.
No refunds available less than 14 days from the start of the event.
Partial refunds might be given if a cancellation takes place under extenuating circumstances (e.g. a death of a 1st or 2nd degree family member, serious non-preventable illness or accident requiring hospitalization). Refunds in such cases remain at the discretion of the local organizers and will be decided on a case to case basis according to the timing of the cancellation and other factors.
COVID Precautions and Testing
No specific requirements on vaccination status are needed to attend the CI Creation Lab Weekend. However, all registrants are required to take an antigen test on the day of or before arriving at Earthdance. If you need a test, Earthdance will have them available to purchase for $10 each.
Please take adequate measures to limit your exposure in the days before arriving. If you are feeling sick, or have a known close exposure to someone with COVID in the past 5 days, please sit this one out to keep the community well.
Participant Community Support
Earthdance runs as a​ community, thus part of the participation is that all individuals contribute to 1-2 work shifts (typically meal cleans) throughout the jam/workshop and participate in a final house clean on Sunday. These are great ways to connect more with your fellow participants and Earthdance staff, and to feel more at home in the Earthdance buildings & grounds. Your contributions to this collective caring of this space are invaluable!
Earthdance's buildings are ADA accessible. More info here.
HOST BIOS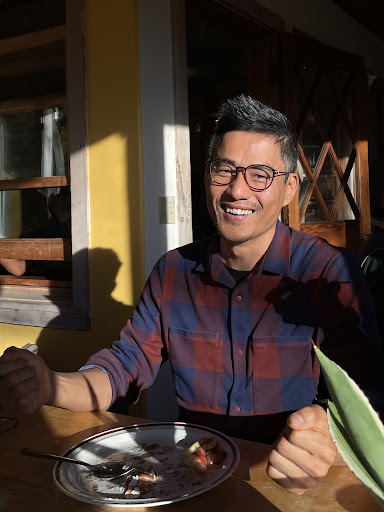 Jungwoong Kim is a multidisciplinary artist whose practice is centered in choreography, improvisational dance/sound, Contact Improvisation, and movement for theater. He earned a degree in Choreography at the National University of the Arts in Seoul, South Korea, and performed extensively in South Korea, Japan and Holland. Since arriving in the United States in 2007, he has maintained an extensive and diverse practice as a performing artist and creator of site-specific, multi-media works. He is a choreographer and movement consultant for mainstage theater productions and is a regular workshop leader from the actors repertory company of Philadelphia's Wilma Theater and the Headlong Performance Institute. He collaborates with a wide range of artists, including dancers, musicians, sculptors, and poets, and regularly leads CI, movement, and improvisation workshops at colleges, universities, and artist retreats. More info: aha-k-pro.org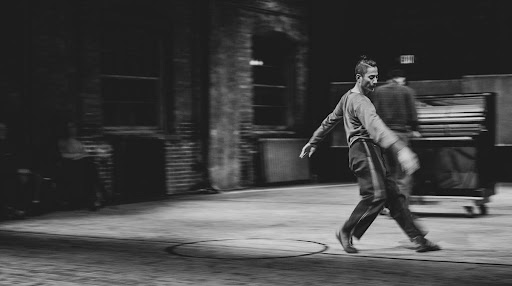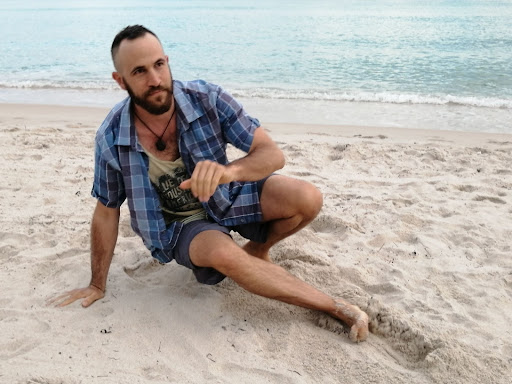 Tal Shibi is a native Jerusalem choreographer, improvisor, performer, and teacher of dance, CI, and somatic awareness. He is continuously curious in exploring collaborations between different art forms, and widening the perceptions of performance and dance. In his works and teaching he emphasizes avenues towards practicing with presence, humor, and experimentation.
He has been teaching CI, Movement, Improvisation, and Dance for the past 10 years including workshops and classes held in Israel, Greece, Germany, Thailand, Budapest, Norway and the U.S. Tal is a Shiatsu and Watsu (body-work in the water) therapist, and is a graduate of the Movement department (with an emphasis on choreography) at the Jerusalem Academy of Music and Dance. He is Currently completing an MFA in dance at Bennington College. More info: talshibi.com