Submitted by julia on January 30, 2013 - 3:02pm
Ian Winters, programmer, interactive and video artist
James Cunningham, interactivity, movement and video/sound artist
Suzon Fuks, project initiator & coordinator, movement interaction artist & platform co-founder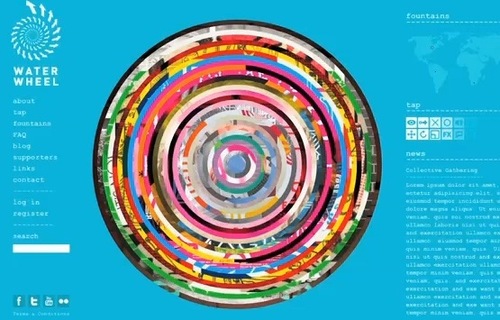 Waterwheel
Researched during Suzon's Australia Council Fellowship, and developed with Arts Queensland and Brisbane Council funding, WATERWHEEL was launched in August 2011. It is a collaborative online venue for streaming, mixing media, and sharing ideas about Water, as a topic or metaphor.
http://water-wheel.net
based around a unique videoconferencing and media mixing system, the TAP, which allows new choreographic and kinetic possibilities by performing and editing, live, up to 6 webcams and media - moving, rotating, resizing and fading the frames - with an audience in type chat, all in one webpage.  Waterwheel has 500 registered users and some 950 items of sharable media. 
Events to date include performances, presentations, collaborations, and hosting/participation in symposia both online and with real-world nodes in Sousse University (Tunisia), iMAL (Brussels), Ausdance (Brisbane), Technopolis (Buenos Aires), JWCoCA (Brisbane). Upcoming events include WaterCheers, CyPosium, 121212 Cyberformance Festival, World Water Day, and ISEA2013. 
Winters, Cunningham and Fuks are currently working on a prototype exploring ways physical movement can be used in the control/presentation/interaction of Waterwheel content using two site-specific media works (Cunningham's "Here, Now" project, and, Winters' "Perambulation" project) as "test" content.
Learn more about:
Ian Winters at: http://ianwinters.com/
James Cunningham and Suzon Fuks at: http://www.igneous.org.au/mirage-CVs.html